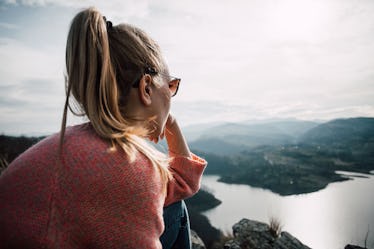 4 Signs You're Ready To Move On From A Breakup, Because Dwelling Won't Make It Easier
For a lot of people, moving on from a past relationship isn't easy. No matter how that relationship ended, you're still getting used to not having a romantic partner constantly in your life, and it takes some time to adjust to that. However, there are definitely certain signs you're ready to move on from a breakup that you can look out for, but according to experts, you shouldn't rush.
"There are generally two components of getting over someone and moving on: time and someone else," dating coach Erika Ettin tells Elite Daily. "That ratio differs person to person. But, time should not be zero. Some people like to jump right back into the dating pool after a relationship ends, which I don't advise. It's wise to take some time to reflect, learn, and mourn that relationship. If you do, you'll make a better partner the next time around."
Everyone is different, and every relationship is different. No matter how yours ended, you're eventually going to move on, even if it doesn't feel like it — I promise. Don't believe me? Then take a look at these expert-approved signs you're ready to move on, because you never know when it will happen.