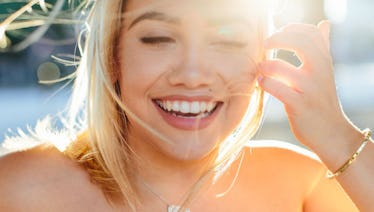 5 Subtle Signs You're Totally Over Your Ex, So Pop The Champagne & Get Your Flirt On
No matter what anyone says, moving past a relationship is difficult. When you have invested any amount of yourself into someone else, calling it quits isn't easy, and moving on is a challenge in and of itself. But, what's perhaps more challenging is figuring out if you're actually over it, or if you just think you are. These subtle signs you're over your ex will help you figure out where you are in the emotional process, and according to several experts, there are definitely ways to work through how you're feeling.
If you're going through a breakup, chances are you've wondered when it will all be over, and when you'll finally move on. Obviously, those are valid thoughts, and you're probably sick of the clichéd, "time heals all wounds," adage, but it's not wrong. Getting over an ex is hard, and it really does take time. However, it actually all depends on how the breakup itself went down. And if you find yourself trying to decide if you've fully moved on, then you're not alone.
So, before you start to get too down on yourself for not moving on as quickly as you thought you would, just breathe, and check out what these experts have to say about getting over an ex, because there are definitely a few subtle signs that you're on your way.