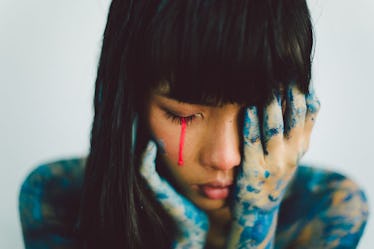 6 Brutally Honest Phases Of Life After A Breakup, Because You Will Survive 
If you've ever been through a bad breakup, you know that the struggle is real. For the weeks (or possibly months, if it was a really bad one) that follow, life can be rough, but there is always light at the end of the tunnel. Don't believe me? Just look around. Most people you see have all gone through the pain of a breakup at least once before. They survived it and moved on with their lives, so you can too. Because once you make it through these brutally honest phases of life after a breakup, not only will you feel better, but you'll be stronger, too.
That all sounds great, but when you're still very much in your heartbreak, it's not really that helpful. However, having an idea of what to expect can shine the light on where you are in the mourning process and how soon you'll be ready to rebound. And while, admittedly, every post-relationship experience is a bit different and on its own timeline, there are common paths that we all go on, so you don't have to go through this experience totally blind. Here are the post-breakup phases that we pretty much all go through.