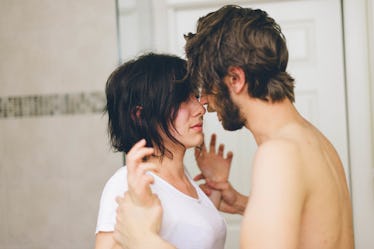 5 Brutally Honest Phases Of Realizing Your Relationship Isn't Meant To Be
Sometimes, relationships can end seemingly out of nowhere. One day, you're happily coupled up; the next day, you're single and maybe even sad. But usually, there is some kind of quiet build-up behind the scenes and below the surface, where one or both of partners is going through the process of realizing your relationship isn't meant to be. And man, is it brutal. Falling in love may be absolutely is amazing, but falling out it is the worst.
When I've found myself in the end stages of a relationship, I spent a lot of time trying not to admit it, first to myself and then to my partner. But just like the way the heart wants what it wants, the reverse is also true. When a relationship is not meant to go the distance, it can happen in a big explosion of fighting and separation, or by a slow processes of growing apart. Regardless of the kind of breakup you have, you will probably have a lot of the same emotions. It's actually a lot like the process of mourning — or I guess in this case pre-mourning: You go through stages that ultimately lead to acceptance. Is this starting to sound familiar? Here's how it usually goes.