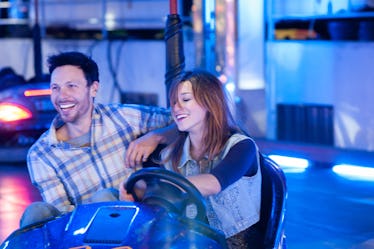 5 First Anniversary Date Ideas That Are Perfect For Celebrating The Milestone
I've never been one for celebrating relationship anniversaries. To me, they feel a lot like New Year's Eve in that I worry the reality of an anniversary celebration won't live up to my expectations. This is, of course, absurd. Growing up has taught me to celebrate every momentous occasion life has to offer and first year anniversaries definitely count. That said, I still prefer first year anniversary date ideas that are more about spending time together than they are about ~proving~ your love for each other.
It doesn't have to be elaborate, or expensive, or even Instagram-worthy. Your first anniversary with your partner is about celebrating the time you've spent together, without your Instagram followers. It should be something just for the two of you and should involve actual things you're interested in. If you hate sand, don't book an expensive beach vacation together just because that's how everyone else on your timeline has celebrated their love.
The point is, your anniversary is yours to celebrate (or ignore) however you choose to. I'm just here to help you brainstorm a few ideas that might work for you and your partner.