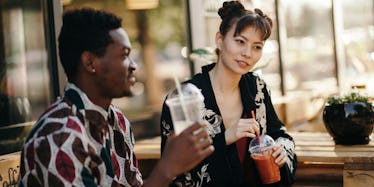 5 Questions You Should Never Ask On A First Date If You Want A Second
First dates can often feel like you're interviewing the other person to see if they'll make it to the next round of your life. But in reality, dates shouldn't feel like an interview. You want things to feel romantic and flirtatious, not professional and nerve-wracking, and you also want to see if you two are a match. There are certain questions not to ask on a first date that could make things uncomfortable for the both of you, which you likely don't want to happen.
I spoke with Samantha Burns, dating coach and author of Breaking Up and Bouncing Back as well as April Masini, relationship advice expert, to understand the questions you should probably avoid in order to keep your first date light and fun. It's understandable that you want the answers to some of these questions, but maybe they're better off tucking away until later on in the dating process with that person, should you continue to see them. Plus, they may willingly reveal some of this information anyway. If you're asked some of these controversial questions, I asked how to handle that too, should it come up. Here's what Burns and Masini had to say.