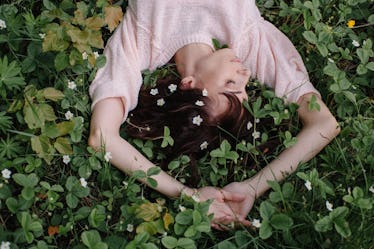 If You Broke Up Years Ago But Still Feel Upset, Here's How To Get Closure & Move On
When seeking advice after a tough breakup, you've probably heard the same thing from your friends, family members, and therapist if you have one. "You just need closure." But what does getting closure really mean? And what can you do if you feel like you never got the closure you needed from your ex? Understanding how to get closure after a breakup and move on from a past relationship isn't common knowledge. You can give back your ex's stuff, delete them off social media, and try to spend less time with your mutual friends. But if it's been years since the breakup and you're still hurting, you may need to take other steps.
I spoke to behavior and relationship expert Dr. Patrick Wanis, Ph.D., about the possible reasons why you haven't moved on from your ex, and how you can find the closure you need within yourself, so that you can finally begin to heal. His audiobook and program Get Over Your Ex Now! outlines 12 reasons why you might not be over your ex — eight of which are explained in this article.
"The grieving process is not linear and it's not static," Dr. Wanis tells Elite Daily. "You don't go from this step directly to that step. You might go three steps forward and come back two. Each person will go through it in their own way. There is not a specific timeline to grieving." If it's been years and you're still dealing with feelings from a breakup, there's nothing wrong with you. Don't just sit and wait for time to heal you, though. "Time doesn't heal anything," says Dr. Wanis. "It's what you do within time that will heal you or not heal you."