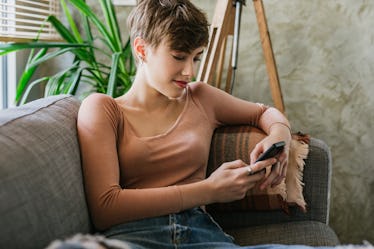 This Is The Ultimate Sext To Send Based On Your Myers-Briggs Personality Type
If you've ever wondered about the meaning of those four letters people sometimes list in their dating app profiles — like INTJ or ENFP — you're not alone. The MBTI (Myers-Briggs Type Indicator) test is meant to determine an individual's preferences, and in turn, their personality type. According to the creators of the MBTI, there are 16 types, which are made up of personality traits and individual preferences. So in order to use your MBTI to your advantage, like when it comes to the best sexts to send based on your Myers-Briggs, you'll first need to take the test.
There is an official paid MBTI assessment, as well as unofficial free versions. Each test asks a series of questions to help understand your preferences and break them down through five categories. First is favorite world. When it comes down to it, do you tend to focus on the outside world? This signifies extraversion (E). If you prefer to be in your own inner world, you're more prone to introversion (I). The other letters that come together to make up the 16 different personalities have to do with information: sensing (S) or intuition (N); decisions: thinking (T) or feeling (F); and structure: judging (J) or perceiving (P).
Once you've taken the test and discovered your personality type, those four little letters can help you to understand everything from your leadership style to the best way to flirt with your crush. Here, I've used the MBTI to come up with the ultimate sext for you to send based on your Myers-Briggs personality type. Because, really, what better way is there to apply this newfound information about yourself to your everyday life?