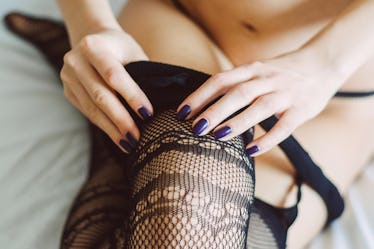 The Sexiest Thing That Turns You On, Based On Your Myers-Briggs Personality Type
What's your secret kink? Don't be shy, we all have one. I'm talking about that little extra something that drives you wild, that you may or may not be open about — maybe even to yourself! If you don't think you have a secret turn-on, chances are you just haven't figured it out yet. Learning who we are takes a lot of self-reflection, honesty, and experimentation, and that definitely extends to our sexual selves as well. But there are some shortcuts you can take, like learning what turns you on, based on your Myers-Briggs personality type. If you don't know your personality type, you can find out by taking the test right here. It's cool, I'll wait.
Got your results? OK, great. Moving on.
Now that you know what type you are, the question is: What can a personality test tell you about your sexual desires? A lot, actually. Because depending on your personality, you're naturally going to be drawn to certain things and repulsed by others, and somewhere along that spectrum are the things that turn us on. Here's what you find most titillating, exciting, and taboo, based on your personality type.