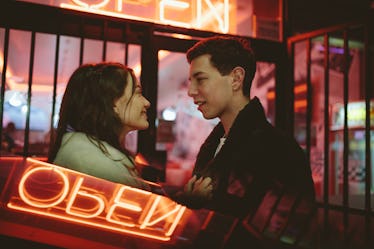 5 First Date Ideas That Don't Involve Drinking, Because Sometimes You Need A Break
The idea of going on a first date sans alcohol may sound like the furthest thing from enjoyable to some. Let's face it: The first couple of dates are usually underscored with nerves, which is why drinking can feel like a necessary element to relax. Thankfully, if you're a good match, then you should totally be able to have fun without getting tipsy. First date ideas that don't involve drinking are actually way easier to come up with than you might think, and keeping some ideas in mind if you or your date don't drink is never a bad idea.
There are so many reasons why a person might want to avoid drinking on a first date. Maybe they're sober, have special dietary restrictions, have an allergy, or just don't want to be in an overly vulnerable state with someone they don't know very well. IMO, the best way to go about planning a sober date is to schedule a hang out during the day. This almost guarantees that going dry will be much less of a thing. Plus, actually making plans to do something rather than just sitting and talking can also take a ton of pressure off.
"An activity-based date is perfect and can allow you to do something fun outside that you and your date can both enjoy together," founder, matchmaker, and dating coach of LUMA Luxury Matchmaking told Bustle. Below, some fun date ideas that will still be totally fun without booze.