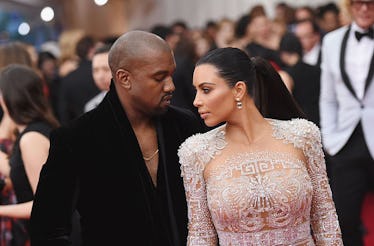 5 Incredibly Inspiring Love Lessons You Can Learn From The Kardashian Sisters
I'm going to say something I never thought I would say: you really should be taking life lessons from the Kardashians. If you're about to tell me that the family is famous for doing nothing, well, then I'ma let you finish, but Beyoncé — sorry, the Kardashians — are the greatest celebrities of all time.
Whether they're raking in millions with their cosmetics empires and reality TV series or giving back with charitable donations (last year, the family donated $500,000 to victims of Hurricane Harvey), they're on their A-game. And that's true in their love lives, too.
In a family full of strong women, you can expect to pick up a thing or two about dating and relationships. Since their reality show Keeping Up With The Kardashians aired in 2007, they've given us more love advice (often by example) than Carrie Bradshaw ever did on Sex and the City.
For example, Kourtney Kardashian taught me that if your boyfriend keeps asking to try anal sex even though you don't want to, you should definitely turn the tables on him. Disick told Kourtney, "If I keep knockin', that door's gonna open," to which she responded by chasing him around the house while wearing a strap-on. Disick quickly realized that it wasn't for him and promised never to bring it up again.
Apart from how to talk to your partner about anal sex, here are five things you can learn from the Kardashians.