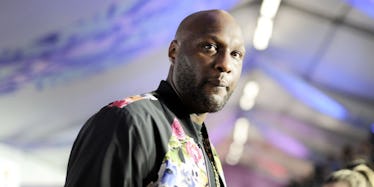 Lamar Opens Up About Khloé Kardashian Breakup And How He Lost Rob As A Friend
Emma McIntyre/Getty Images
Lamar Odom has been on the mend ever since his tragic overdose in October of 2015, which landed him in the hospital.
Since then, he has been speaking out about his divorce from Khloé Kardashian and more recently how he lost a friend in her brother, Rob Kardashian.
Appearing on The Wendy Williams Show this Wednesday, June 28, Odom did not hold back while discussing the details of his life (and Wendy didn't, either).
Though they were in the middle of a divorce at the time, Kardashian put all of that on hold to remain Odom's main caretaker during his hospital stay.
Odom told Williams, "She held me down at the time."
Since then, Khloé Kardashian and Lamar Odom finalized their divorce in December of 2016, and Odom says he lost more than just a marriage. He also lost a brother.
Rob Kardashian and Odom were famously close during the two years they lived together, and fans and viewers watched them goof around like family during the show Khloé & Lamar. Now, Odom says they aren't speaking at all.
"He [Rob] has a child. I haven't met his child yet or anything," he said.
When Williams pressed him on why he thinks they aren't in touch, Odom offered,
I guess maybe it's because I hurt his sister too much. I have no idea. If she was my sister, I would have a problem with me too.
This realization seems to be part of the continued search for clarity and peace Odom has been working on since his accident.
In a previous appearance on the talk show The Doctors, Odom told host Dr. Travis Stork he "wanted his wife back."
Now, when Williams asked him if he would ever get back together with Khloé, Odom responded "no" without any hesitation.
He added, "That would be the best for both of us."
We wish Odom continued health and happiness on his road to recovery.