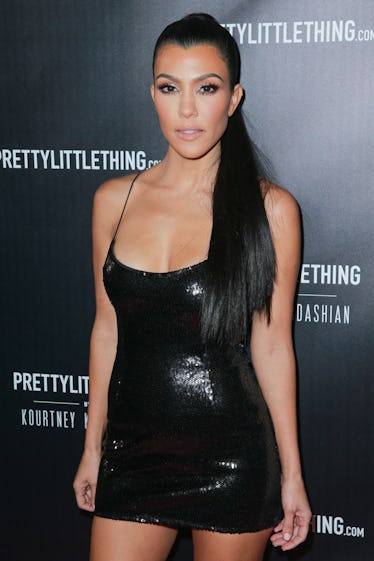 Kourtney K's Best Nine Instagram Photos Include Younes & Scott, So That's Awkward
Rich Fury/Getty Images Entertainment/Getty Images
If you don't think Kourtney Kardashian had a good year, you might want to think things through real quick. Our girl has been absolutely crushing it! And since we've been graced with Kourtney Kardashian's Best Nine photos on Instagram, I'm not going to lie: viewing them will make you just a little jealous of the oldest smoldering Kardashian sister.
Look, we know that the road to love for Kourtney has been anything but smooth. It's clear that her relationship with Scott Disick was just the slightest bit tumultuous, because Keeping Up With The Kardashians was there to document pretty much every aspect of their on-again, off-again romance. While Disick, who is the father to Mason, Penelope, and Reign, will probably *always* remain in the picture, I think it's safe to say that we were all here for Kourtney's romantic relationship with Younes Bendjima, the 24-year-old male model who has the most chiseled cheekbones (and abs) that I've ever seen in my entire life.
And, though Kourtney has remained pretty tight-lipped about their relationship, there are some photos that show that, yeah, these two people are totally into each other.
Here they are back in July, looking very handsy with one another on a pedal boat while vacationing in St. Tropez together:
I honestly don't know where my eyes gravitate to first. Is it Kourtney's barely-there bathing suit? Or is it Younes' super-tight swim trunks? Decisions, amirite?
I digress.
So, look. It's the end of the year, and Kourtney is feeling good with a new man, as she should. So when she rolled out her Best Nine on Instagram, I was waiting to see which lucky dude would be featured. Is good old Scott going to be featured? Or will young, hot Younes make an appearance instead?
Wellllll. Funny story.
It looks like BOTH men were able to get a cameo on Kourtney's Best Nine. Let's take a closer look, shall we?
Let me first point out something: half of Kourtney's most liked photos on Instagram this year were all. about. Kourtney.
Kourtney looking fly as hell in a mirror selfie. Kourtney sitting seductively in nothing but her birthday suit. Kourtney and her backside in a skimpy leopard bikini. SHE IS A QUEEN.
But the photos that are getting me most hyped are obviously the ones with Kourtney and Younes... and Kourtney with Scott. It's like a really, really good-looking love triangle and I can't look away.
So, which of Kourtney's flames got more Insta-cred? Let's discuss.
Kourtney's photo with Younes was posted on November 1, and showed the couple looking cooler than I ever will in my entire life, channeling Bonnie and Clyde for Halloween. Kourtney perfectly captioned the pic:
let's get money now, we can fall in love later
So damn cool.
In the other Insta-corner, we have a photo of Kourtney with Scott in Hawaii back in April, looking... somewhat happy together? Her caption was also pretty perfect here, too:
MOM and DAD back at it again with the coparenting skills.
But according to Instagram users, there's a clear winner between whether Younes' or Scott's photo is more popular (decided by how many likes each photo got, obviously). While the photo of Hawaiian Kourtney and Scott received just over 1.4 million likes, Kourtney and Younes aka Bonnie and Clyde stole the damn show with over 1.8 million likes, proving that – sorry, Scott – the world is shipping Kourt-nes pretty hard.
Oh, and in case you were wondering if having a total of nearly 300 million likes on only nine Instagram photos a là Kourtney is a bit of overkill, just remember that Kim Kardashian's Best Nine photos tallied over 600 million this year. Proof that a Kardashian's job is never quite finished until they hit their next Insta-milestone.