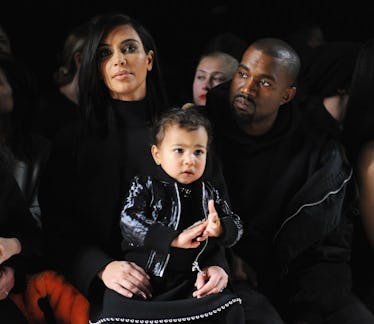 North West Is The Star Of Kim K's Best Nine Photos On Instagram Because Duh
Craig Barritt/Getty Images Entertainment/Getty Images
Are you like me, spending the end of your year stalking celebrity Instagram accounts waiting for them to post their Best Nine collage? If you are, I'd like to first welcome you to the club. Sit down and make yourself comfortable, and allow yourself to view the Best Nine to end all Best Nines. That's because Kim Kardashian's Best Nine photos on Instagram is finally here, and it's a North West invasion in the best possible way, and I can now rest easy tonight knowing how loved little North is.
For those of you who aren't in ~the know~, there's a website that allows you to plug in your Instagram handle, and, like cyber-magic, your most popular Instagram photos will be displayed in a cute little collage. It basically serves as a highlight reel of all the Insta-worthy things you've done for the last twelve months, and it also shows you just how many likes you've received from those photos. While us regular folk would be pleased with a few- hundred likes on our photos, it should be duly noted that Kim K's tally is over 600 million. (So try not to brag too much to the person who received less likes than you, because none of us are Kim Kardashian, OK?)
And, in true Kim style, her Best Nine is an instant masterpiece, featuring perfectly-contoured selfies, mama Kris Jenner, Yeezy, and YES, SO MANY PHOTOS OF NORTH:
Let's just break this down really quickly. We need to give a nod to Kanye West, because three of the nine photos do involve him, and they're actually really cute, TBH. And we have to give it up to Kris Jenner, who looks pretty fierce and could honestly pass for a Kardashian sister in the selfie of her and Kim. Blonde looks good on you, girl! And we can't forget about Saint, because his little face actually makes my heart melt. The adorable factor is cranked up to ten whenever Saint makes an appearance.
However, the star of the show here is none other than North. She's stealing the show in half of the photos, and you can't even blame her. Whether she's hamming it up with a smile or striking a candid pose, it's undeniable that she is #daughtergoals.
Kim is definitely not shy in showing the world how gorgeous North is, and always graces us with photos of her daughter that basically belong in a magazine:
I mean, look at this straight-up angel:
And just think, soon enough, we'll have another Kardashian-West baby to swoon over. Though the due date for Kim Kardashian's third child via surrogate has yet to be confirmed by Kardashian herself, a source told Us Weekly that "Kim's surrogate is due before Christmas," so there's hope that North and Saint may have a very special present under their Christmas tree this year.
Kim is undoubtedly fortunate to have North and Saint, but has also been very vocal about how difficult those pregnancies were due to a painful and threatening condition called placenta accreta.
In an interview with C Magazine, Kim spoke about her personal struggle with fertility. She said,
I had so many complications. I had this condition called placenta accreta. There were a couple little operations to fix all that so that created a little hole in my uterus, which I think made it really tough to get pregnant again.
And, in an interview with The Hollywood Reporter, she spoke about the idea of having a surrogate child:
I hope so. There have been a lot of things said, and Kanye and I have not confirmed anything. We're definitely trying. We are hoping so.
So now that we know that North and Saint are getting a sibling, it looks like we're just going to have to wait an entire year to see if the newest Kardashian-West baby will take over Kim K's Top Nine.
North, you've been warned of the competition.
JK. North, you'll always be first in our hearts.