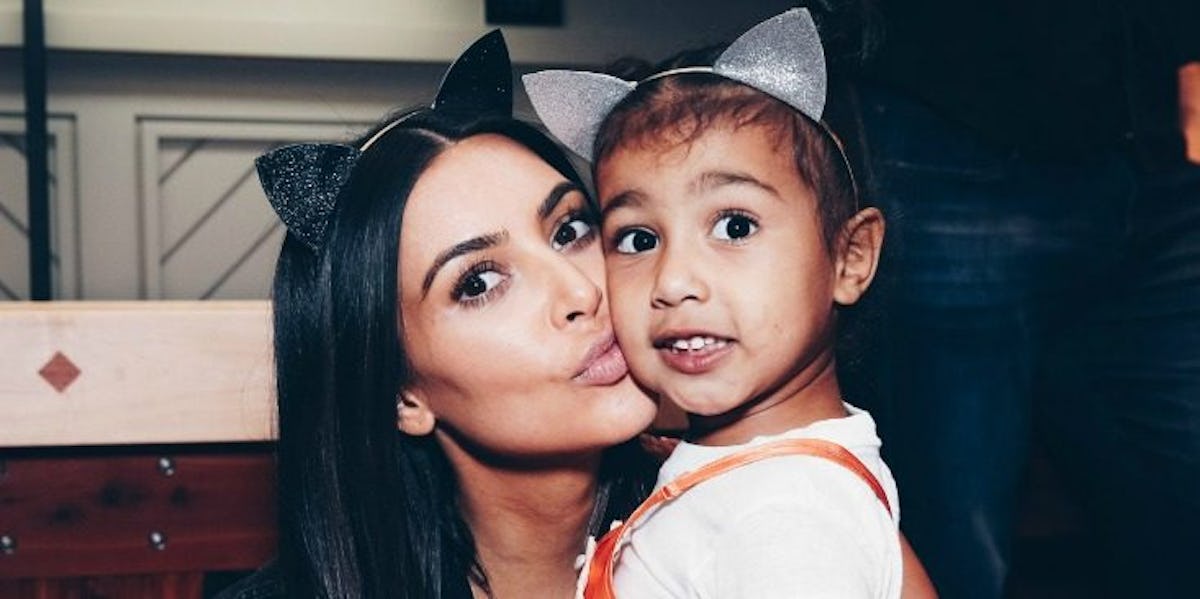 North West Singing "You Are So Beautiful" To Kim K Will Make Your Heart Melt
Getty Images / Handout
Few things in life bring me as much joy as the children of Kim Kardashian and Kanye West. I mean seriously, these kids are cute AF and have better closets than most people I know. Just when I thought North West couldn't get any cuter, she did. On Aug. 28, Kim K took to Snapchat to share a video of her 4-year-old daughter serenading her. To what song? "You Are So Beautiful." YOU. ARE. SO. BEAUTIFUL. Where does she learn this stuff?! I swear, I can't. My heart has melted all over the floor. Kim Kardashian's Snapchat of North West is literally the cutest thing on the internet right now.
In the Snapchat, Kardashian looks like she's sneakily trying to capture the heartwarming moment. I don't blame her — I would want to remember this moment forever, too. North sweetly sings in a T-shirt that says "In Memory of Aaliyah," but then seemingly starts to get a little shy. After her solo performance, Kardashian squeals, "You are so sweet!"
Kim K definitely loves sharing sweet videos of North and her 20-month-old son, Saint. Check out the video below for the full Snapchat of North's debut performance. The song starts about 58 seconds in.
2017 is the year of #MomLife for Kimmy K. Besides being busy in her personal life, Kardashian is slaying in her professional life, too. Guess what? She finally wants a little recognition for it. She sat down with Interview magazine to talk about everything going on in her life. When the topic of her career came up, she said,
I used to say, 'I love being underestimated.' But now when I hear, 'They're so not talented,'— ten years into it — I'm kind of like, 'OK, give a girl a little respect.' If I'm so not talented, if I do nothing, then how is my career my reality? And I poke fun at it, like when I was on the cover of Forbes I posted the hashtag #NotBadForAGirlWithNoTalent. I don't mind being underestimated because it does fuel me. But after a while, I do feel like, 'C'mon, you can recognize a little bit.'
Honestly, I agree. I feel like the "no talent" jokes are so 2005. I'm glad to see Kim Kardashian killing it this year. Keep doing you, Kimmy.