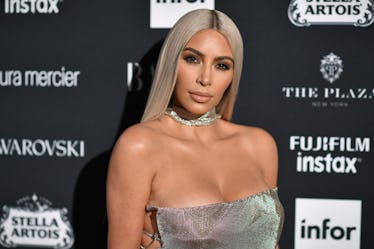 People Are Pissed About This Magazine Cover Of Kim Kardashian And North West
Dimitrios Kambouris/Getty Images Entertainment/Getty Images
Kim Kardashian is back in the news again, and no, it's not about Taylor Swift. I know, really shocking. Kim K just posed for the cover of the September issue of Interview magazine, and she completely transformed into former first lady Jackie Kennedy Onassis for it. Kim Kardashian's first lady magazine cover with North West is, let's just say, shocking. Wow. I really don't understand the similarities between the two at all. Two humans could not be more different. One was the most beloved first ladies, while the other is the most beloved/hated reality show personality. Is it just me, or am I missing something?
On Monday, Aug. 28, 2017, Kim K shared the cover, titled "America's New First Lady," on Twitter along with numerous images from the Interview magazine article.
Here are some of the images from the Interview shoot.
People on Twitter are reacting to the new cover harshly because, that's just what they do, and nobody gets the comparison. Nobody.
Is that you, Jackie Kennedy? Nope, it's Kim K.
Not good.
The world is in a weird place.
Kim K is a sneaky little thing. According to TMZ, she allegedly bid on and won Jackie Kennedy's Cartier watch during an auction in the summer of 2017. She also reportedly bought it for a whopping $379,500. So, did she get the watch specifically for this photo shoot? Probably.
If that didn't get Kardashian haters angry enough, Kim K also remarks on being underestimated in the Interview magazine article,
I used to say, 'I love being underestimated.' But now when I hear, 'They're so not talented,'— ten years into it — I'm kind of like, 'OK, give a girl a little respect.' If I'm so not talented, if I do nothing, then how is my career my reality? And I poke fun at it, like when I was on the cover of Forbes I posted the hashtag #NotBadForAGirlWithNoTalent. I don't mind being underestimated because it does fuel me. But after a while, I do feel like, 'C'mon, you can recognize a little bit.'
Kim K then goes bold with this statement,
You can say a lot of things about me, but you cannot say I don't work hard. I don't sing. I don't dance. I don't act. But I am not lazy.
Get it, Kim. Who cares who you p*ss off? Apparently, not you.