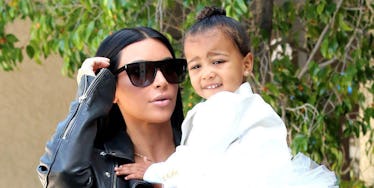 Kim Kardashian Can't Stop Sharing Pics Of Saint And North West On Social Media
REX/Shutterstock
Kim Kardashian is one proud momma.
This past week has been like the end of a really inspirational sports movie.
After months away from social media following the time she was held at gunpoint, Kim Kardashian bravely and heroically made her return to the web with just seconds before 2017 really started to kick off.
America and the world was down and out with little hope. Morale was low, and 2016 was the clear favorite to finish us off during the early days of the new year.
Then, Kim came back.
DO YOU BELEIVE IN MIRACLES?!?!?!
Her reemergence onto social media is nothing short of an inspiration to the world.
Since she's come back, the government has repealed its decision to gut the independent ethics panel, Charles Manson has almost died, and Ariel Winter got a boyfriend.
It's recharged the world and has personally given me strength during trying times.
I was at a salad bar today during lunch hour (AKA in the center of a high stakes pressure cooker) and ordered with confidence while 15 hungry Wall Street types waited behind me for their salad bowls.
So, in 2017, we could be seeing the start of a newer, rebranded Kim Kardashian, one that is more family and mom-centric than in the past.
Her posts have been absolutely adorable, mostly featuring her with her kids or just her kids alone.
Here is Kim hanging out with Saint.
Here is Kim hanging out with a really nice carpet.
Here are Saint and North hanging out.
Kim made her return to social media on Wednesday after more than three months of being off of the web.
She took her internet hiatus after being held at gunpoint during Paris Fashion Week. During the robbery, her attackers escaped with anywhere between $6 million and $11 million worth of jewelry.
Keep killin' it in 2017, Kimmy!
Citations: Kim Kardashian West Shares Even More Photos of Saint and North After Much Awaited Social Media Return (People)