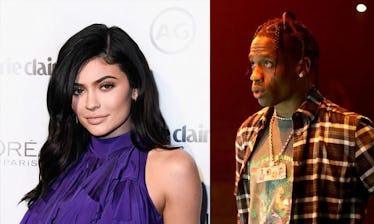 These Adorable Videos Of Kylie Jenner & Travis Scott Prove They'll Be Amazing Parents
Getty Images
Baby Kar-Jenner-Scott is finally here! Well, I guess I can drop the Kardashian part from Kylie's namesake since she's officially the matriarch of her own precious little family. It was revealed on the American holiday that is Super Bowl Sunday that Kylie Jenner gave birth to a healthy baby girl just THREE days ago on Feb. 1, 2018, after keeping the pregnancy pretty much under wraps, since reports of it leaked in September 2017. There's so much to discuss here. Just a few questions everyone has are how was the experience for Kylie? What does Kendall think? What's the baby's name?! Well, we don't know the answer to that last one just yet, but we can take a moment to look back down memory lane at some of the cutest moments and videos of Kylie Jenner and Travis Scott that led up to this beautiful moment of bringing a new little baby girl into this world.
Scott and Jenner have been reportedly dating since August 2017, when they were spotted getting close at a Coachella party, according to People. Ever since then, the duo has been inseparable. In the YouTube video Kylie just published on her public account, we can see Scott has been around for tons of the infamous Kardashian-Jenner get togethers, such as Kylie's birthday, Chicago West's birth, Kylie's doctor appointments, and what appears to be Khloé Kardashian's pregnancy reveal party.
It seems like he's already an active part of Kylie's life, and no even more so since they welcomed a baby girl on Feb. 1, 2018.
Back In June, Kylie And Travis Were Cozy On A Casual Car Ride
The two couldn't keep their hands off one another when TMZ spotted them running a quick errand together over the summer. When Kylie's E! docu-series, Life of Kylie premiered in August, Scott wasn't directly mentioned, but the star clearly gets a huge flower delivery from a mystery guy, which causes Kylie to blush on camera. In response to a producer egging her on for more details, she sweetly revealed, "I feel way more free now."
Travis Scott And Kylie rarely make appearances on each other's social media accounts.
Recently Scott uploaded this video of one of his concerts, but Kylie is largely absent from his profile. The same goes for her account, which boasts 101 million followers. It makes sense that the two would want to keep what they have private, so it's not like there are any wild assumptions to be made from the fact that they aren't all over each other in their social media accounts. The pair definitely knows their millions of followers don't matter when it comes to how they really feel.
But this finally changed when Kylie confirmed her pregnancy.
In the video teaser for Jenner's YouTube video which gave fans a glimpse into her nine-month pregnancy journey, we finally see home videos of Scott and Jenner together. The two are cozy by the beach together, are seen at Kris Jenner's house, and also share some intimate moments with Kylie's older sisters, Khloé and Kim.
The home videos of Jenner and Scott are split up by super sweet interviews from Kylie's friends Stas (Anastasia Karanikolauo) and Jordyn Woods, who can't help but dote on the loving parents and especially call out how amazing Kylie is sure to be as a mother.
The two look more in love than ever in the full YouTube video that documents the pregnancy.
We finally get inside glimpses of the couple we've all been waiting for in Kylie's announcement YouTube video. Travis Scott is definitely present for those amazing pregnancy moments, like the first ultrasounds, close family gatherings, and of course when the baby was born. The two look more in love than ever, and now that the pregnancy and birth of their baby girl is officially out of the bag, we'll probably seeing a lot more of the cute little family in the news and of course, on Keeping Up With The Kardashians.