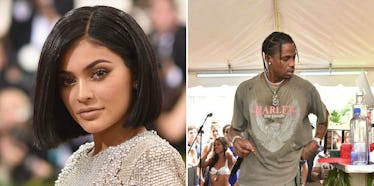 Kylie Jenner Has Said Some Adorable Things About Travis Scott, Here Are Just A Few
Getty Images
About five months ago, Kylie Jenner and Travis Scott dating rumors started swirling. The youngest Jenner was spotted with the rapper just a few weeks after her split with long-term boyfriend, Tyga. Kylie frequently alluded to the relationship on her docu-series, Life of Kylie, and anytime she does, her friends and family can't help but call out how happy Jenner has become. So what are some of the cutest Kylie Jenner quotes about Travis Scott? I thought I'd take you on a trip down memory lane to recap all the puppy love moments.
It all started back in April when Scott and Jenner were spotted hanging out at Coachella, as reported by People. The pair arrived to Jeremy Scott's Moschino x Candy Crush party close to 3 a.m. This public appearance was largely seen as Kylie's official breakup from Tyga, who she dated since turning 18, in August 2015. Although obviously showing up with ANYONE is sure to send paparazzi and fans into a frenzy, Kylie kept it chill by posting an Instagram from the night that included Travis Scott, and simply captioned it, "It's lit." Obviously, Kylie is truly the poet of our generation. I mean, she already has us swearing by lip kits and obsessed with her every move.
But The Internet's Latest Frenzy Is Over Kylie Jenner's Reported Pregnancy Rumors.
TMZ reported today that Kylie Jenner is pregnant with Travis Scott's baby, which neither of them has confirmed. Elite Daily has reached out to both Kylie Jenner and Travis Scott's representatives for a response to this rumor, and did not receive a response at the time of publication.
If the rumors are true (and that's definitely all they are right now, guys. Even TMZ said it couldn't confirm the news), Jenner would currently be four months pregnant. Since TMZ's announcement, People magazine has also reported the news.
And although Kylie never explicitly talked about Travis Scott by name, there are many allusions to the rapper throughout her E! series.
"I Hope The Person I'm Dating Is Obsessed With Me!"
On Sunday, Aug. 20, a Life of Kylie episode aired in which Kylie received a bouquet of flowers from a mystery man. She also got caught up in the excitement when she said to producers in her show's sit-down interview, "I hope the person I'm dating is obsessed with me!" The producer responded by saying, "So you are dating someone?" And Kylie just laughed and said, "Did I say that?"
Turns out, the guy Kylie was referring to was likely Travis Scott.
"I Feel Way More Free."
In another episode of Life of Kylie, Kylie claimed she rarely did anything during the time she was dating Tyga, and said she spent most of her time lying around the house. However, since the timeline of falling into a relationship with Travis Scott, Kylie said on her show, "I've had more fun this past month than I have in like years." She added, "I feel way more free. I'm just like really, genuinely happy right now."
"I Don't Think Anyone's In A Rush To Get Married."
This quote is from Kylie's BFF, Jordyn Woods. In an interview with Life and Style magazine, Woods said on Scott and Jenner's relationship, "I don't think anyone's in a rush to get married." However, she joked that when the famous duo do tie the knot, Woods is obviously set to be the maid of honor.
"Miss U."
On June 23, Kylie posted this photo of herself with the single caption, "Miss u." This was months after their post from Coachella. In the Instagram, there's a lot going on. Kylie seems to be in a closet and in a rush out the door. We'd usually expect something more stylized or maybe a close-up of only Kylie for a post directed at someone, but I guess the moment just struck her and she had to act on it with a quick Instagram post.
I mean, we've all been there.
Multiple sources are reporting that Jenner is pregnant, so if the rumors are true, congratulations, Kylie and Travis. It's clear you guys have been obsessed with each other from the start.