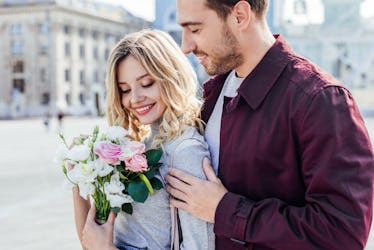 3 Personality Types Who Love Cheesy Gestures, So Lay On The Romance
Shutterstock
A cozy picnic for two in a scenic park, a surprise bouquet of flowers, a heartfelt handwritten note left on your pillow — to some, this isn't just the stuff of silver screen romances, but their actual idea of real-life #relationshipgoals. Knowing the Myers-Briggs personality types who love cheesy romantic gestures can come in handy, too. Because if you're dating one of these types, you can indulge their fantasies and make them feel extra special by leaning into your mushy-gushy side.
It probably goes without saying that Feelers are hard-wired to appreciate romance a tad more than Thinkers. Given that they're driven by emotions, they're more likely to get sentimental over a sweet gesture that makes them feel appreciated and loved — whereas a Thinker might appreciate a practical act more. In other words, the way to a Feeler's heart isn't doing them a favor like helping them finish a task, but rather, carving out one-on-one time to cuddle and converse with them, and expressing your adoration for them verbally. The "Idealists," all of which have a preference for Intuition and Feeling, are particularly prone to craving grand romantic gestures. On the other hand, the "Rationals" (INTJ, ENTJ, INTP, ENTP) are least likely to appreciate these displays of affection. (In fact, many of them think these cheesy acts are silly and unnecessary).
Keeping all that in mind, it's worth taking note if your current crush or partner is one of the following types. If they are, don't be afraid to lay on the romance — whether that means making them an old school mixtape or doing an impromptu slow dance in the living room.