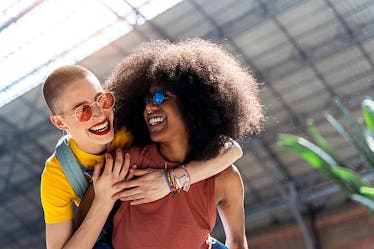 Here's How To Make Your Partner Feel Appreciated & Truly Loved
One of the most important parts of sustaining a healthy relationship is ensuring that your partner feels appreciated. Unfortunately, since everyone's needs in a relationship are different, figuring out the best ways to make your partner feel appreciated isn't always easy. That's why knowing their love language(s) can help you understand which appreciative gestures can work best for them.
Anita Chlipala, licensed marriage and family therapist and author of First Comes Us: The Busy Couple's Guide to Lasting Love explained that sussing out how your partner prefers to experience your love and appreciation can make it much easier to fulfill their needs. "I see how important [love languages] are in the love lives of my clients," Chlipala previously told Elite Daily. "People do have a preference for how they feel loved and cared for by their partner."
The five love languages were first outlined by Dr. Gary Chapman in his book The Five Love Languages: How to Express Heartfelt Commitment to Your Mate. "According to Chapman, individuals have a primary and a secondary love language," Shula Melamed, MA, MPH, and well-being coach previously told Elite Daily. Once you and your partner have taken the love language quiz, based on the results, you can zero in on what types of gestures will make them feel the most appreciated.