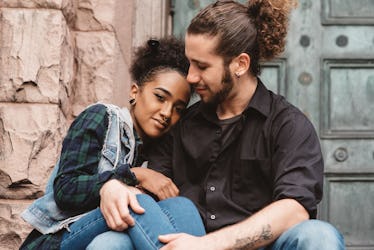 10 Small Gestures To Show Your Partner You Love Them That'll Keep The Excitement Alive
When thinking about love and romance, it's easy to call to mind the grand gestures we see in movies. Even though going over-the-top for your significant other is almost always a welcome surprise, using small gestures to show your partner you love them can be just as effective. TBH, the day-to-day things partners can do to make each other smile can be far more important and impactful than you might think.
Although I'm sure we'd all love nothing more than to wake up and find out we're being whisked away by bae to an exotic locale for a two-week vacation that's already been OK-ed by our boss, reality usually isn't as decadent as our fantasies. Fortunately, there are much more practical and understated things you can do for each other to keep the love alive. Coming up with just about any activity or surprise that you know your partner would enjoy can be the perfect opportunity to remind them just how important they are to you. Don't underestimate the little things and the simple moments you can share with your SO that they'll always treasure.
If you need some help coming up with ways to say "I love you" with your actions, here's some inspiration to get you started.