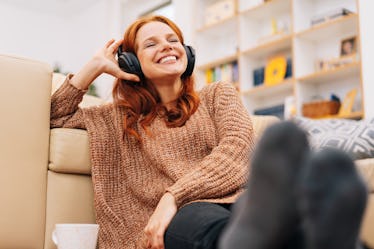 10 Things To Do On A Saturday Night If You're Single AF & Embracing It
Shutterstock
When you're in a relationship, a Saturday night could involve cuddling up on the couch for a movie marathon, sharing cocktails at that trendy new mezcal bar, or cooking a romantic dinner at home. But when you're single AF, your plans might look a little different. Let it be known that there are a ton of fun things to do on a Saturday night if you're single, however. In fact, you can do most of the very same things without a partner. Who says you can't take yourself out for a fancy dinner? But beyond those traditional Saturday night plans, there are many other ways to leverage your singleness for a super fun evening.
Let's start with the obvious. Surely, you could fire up your Netflix or Amazon Prime queue and marathon You for the third time. (And you'd get zero judgement from me, fam — been there, done that.) You could also text a friend and invite them out for drinks. TBH, the world is your oyster right now — so really, all it comes down to is what kind of Saturday night you're in the mood for. Are you seeking a low-key, rejuvenating night in? Or, are you looking for a rowdy night out that inspires a trail of #sorrynotsorry IG posts?
Whichever kind of weekend you're feeling, here are a few fun itineraries to try that are sure to help you embrace your single status.