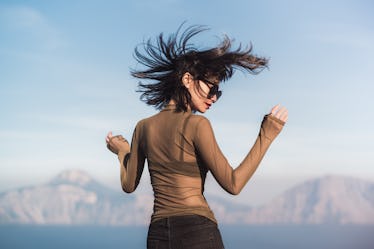 12 Tips For Embracing Being Single, Even When You're Not Thrilled About It
If you miss your ex, if all your friends are cuffed up, or if your sibling got a plus one to your distant family member's wedding in Ohio because they have a partner (and you didn't because you don't) and now you're going to sit at a weird "singles" table, sometimes it feels like a total bummer to be a solo bird. And sometimes, you'll find yourself needing some tips for embracing being single, some reminders of how amazing you are, and some validation that everything is eventually going to be OK.
Sometimes being single comes as a surprise. Sometimes it comes from intentionally and mindfully taking time away from sex or dating. Whatever the reason, whether you're newly a party of one or if you've been flying solo for a while now — sometimes being single is not exactly thrilling. Of course, you are complete and whole and good, no matter your romantic status. And you will live a long and vivid life, full of people that love you regardless of who you are or aren't dating.
If you're looking for daily practices about embracing being single, here are 12 tips to recenter your attention on yourself and all your bring to the world.