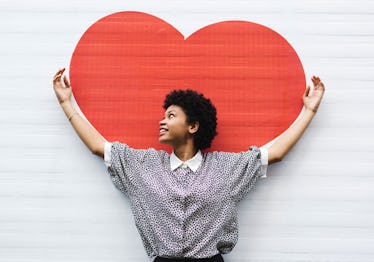 5 Ways To Remind Yourself That You're All You Really Need If You're Single & Down About It
I really loved being single. I loved the excitement of dating new people, I loved the freedom to do whatever I wanted when I wanted, and I loved having time just to myself. That being said, there were times when being single felt like a bummer; when I would look at my friends in happy relationships, and I'd get lonely and wonder if I'd ever meet someone. If I wasn't careful, that feeling would spiral. Sound familiar? If so, you need a few ways to remind yourself you're all you really need. Because the truth is, as great as it is to have a partner, you are good enough and complete all on your own.
Kali Rogers, founder of Blush Online Life Coaching, tells Elite Daily that feeling like you want to be coupled up is totally normal, but it's not everything. "It is always important to feel that you are all you need — but you do not have to be all that you want. It is completely natural for most human beings to want to be in a relationship. That's what we have been doing for thousands of years, so that urge within you to be coupled up probably won't go away anytime soon — nor should it," says Rogers. But she adds that this shouldn't affect your self-worth. "Feeling like you aren't complete, or like you aren't enough just because you're single is a problem. You will always need full confidence that you by yourself are enough, otherwise you will battle issues with co-dependency, insecurity, and jealousy for the rest of your life."
Susan Ball, self-love activist and author of Courage and Grace: From Broken to Blissful, the Journey of Building Joy During Your Recovery from Abuse, tells Elite Daily that being single is an opportunity to learn the most important lesson: That you are enough. "The key to a healthy happy vibrant life is providing everything you need for yourself," she says. "When you are single you have the opportunity to expand your life in any direction you choose. You have no encumbrances. You are free. You can explore and be curious."
While both the experts are right, knowing that you're enough and feeling that you are enough are two different things. Here is how they say you can bridge that gap, and remember that you really are all you need.