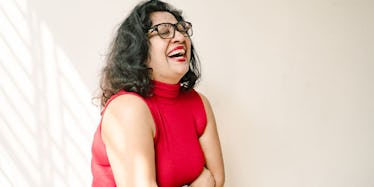 Experts Reveal The 6 Easiest Ways To Love Yourself, Even On The Bad Days
It'd be awesome if you could wake up every single morning, look in the mirror, and absolutely adore what you see, inside and out. The reality, though, is that self-love isn't always that simple, and some days are going to be tougher than others to be both confident and compassionate toward yourself and your body. For those tougher days, there are some easy ways to love yourself when you know your self-esteem just isn't having it, that'll make accepting the skin you're in that much more doable as a whole. After all, self-love is a journey — a perpetual and constant work in progress.
In fact, that's exactly how Renee Cafaro, editor of the plus-size lifestyle magazine SLiNK, thinks about self-love. "I always say that body confidence is a journey and not a destination, so we need to show ourselves some compassion," she tells Elite Daily over email. "Thanks to [unrealistic] standards and diet culture permeating every form of media, everyone — at all sizes — have days where they just feel down about themselves."
Cafaro says that something that works for her is trying to find just one thing about her body or character, no matter how small, that she can accentuate and admire. Maybe that one thing for you is a positive comment you received from a co-worker during a meeting, or even the healthy bounce in your hair that you noticed in the bathroom mirror earlier. Simple enough, right? "Also, I feel it is important [that], if someone feels like they are drowning in self-hate or showing signs of disordered eating, to seek a therapist with experience with depression and body dysmorphia."
Again, self-love and body acceptance is a long road, one that you and I are constantly navigating. As Cafaro says, when you feel like you've really fallen into a rut with your self-image, remind yourself "that you are amazing and have made it this far, so just breathe and know that tomorrow is a new chance to love yourself."
Here are six simple things you can do to show your body, mind, and soul how much you care for yourself, no matter the circumstances.