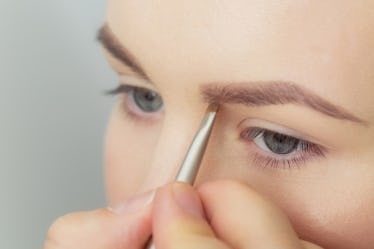 This Eye Brow Gel Has Over 6,000 Glowing Amazon Reviews (& It's Only $13)
As someone who's dealt with sparse blondish brows my entire life, I'm always on the quest for the best brow makeup. But finding the right brow filler can be a little tricky. Not only do you need to identify your primary brow concern (Are they over-plucked? In need of more shape? A little patchy?), you also need to find a product that's going to match your skill level when it comes to application. With everything from pencils and gels to powders and pomades out there, it can be hard to know where to start.
To help you find the best brow filler for you, here's a quick guide on what each kind of brow makeup has to offer.
Gels: This is a great option if you're looking to give your brow some more shape, fill in any sparse areas with a little tint, or set your desired shape to prevent an unruly brow situation. Plus, gels are ideal for brow novices. As brow expert Joey Healy told Elle, "Gel requires no artistry, but keeps you looking young and fresh."
Pencils: If you want to fill in your brows, pencils offer the most precision, and let you feather in individual hairs.
Powders: With powders you're able to add more uniform density compared to pencils. This is another great option for brow beginners since a powder can slowly be layered on until you reach your desired density. However, powders won't do much for reshaping a brow.
Pomades: For creating the illusion of a perfectly shaped full brow, these cream-based formulas are the way to go. "A pomade will help you control the shape of your brows and make them look thicker," makeup artist Ashleigh Ciucci told Bustle.
With that in mind, it's time to find your perfect brow filler. All of the options below come highly rated on Amazon and cost less than $25.