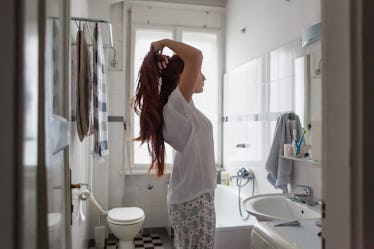 6 Mind-Blowing Flat Iron Hacks That'll Save You So Much Time When You're Getting Ready
Let's get one thing clear right away: We are too busy to spend time stressing out about our hair. There are jobs to go to, friends to catch up with, Netflix shows to marathon, and so on. Getting ready every morning should be as easy and stress-free as possible, so that you can get on to the more important parts of your day. For this reason, you can never have too many flat iron hacks to turn every day into an excellent hair day.
A flat iron is an intentionally uncomplicated tool. After all, it's literally two hot ceramic plates that you smack together into a hot sandwich of sorts. There isn't that much to mess up, unless you're prone to being especially clumsy around hot objects, like I may or may not be. However, there are more ways to use a flat iron than you'd initially think. It's not that people are using it incorrectly; it's just that they might not know quite how useful it can truly be. If you understand the power of your small but mighty flat iron, you will never need another hair tool in your life. These are fighting words, I know, but take my word for it. Any type of wave, curl, or straightened strand can absolutely be accomplished with a flat iron.
Here are six flat iron hacks that you can use to turn your morning routine into a thing of pure efficiency.