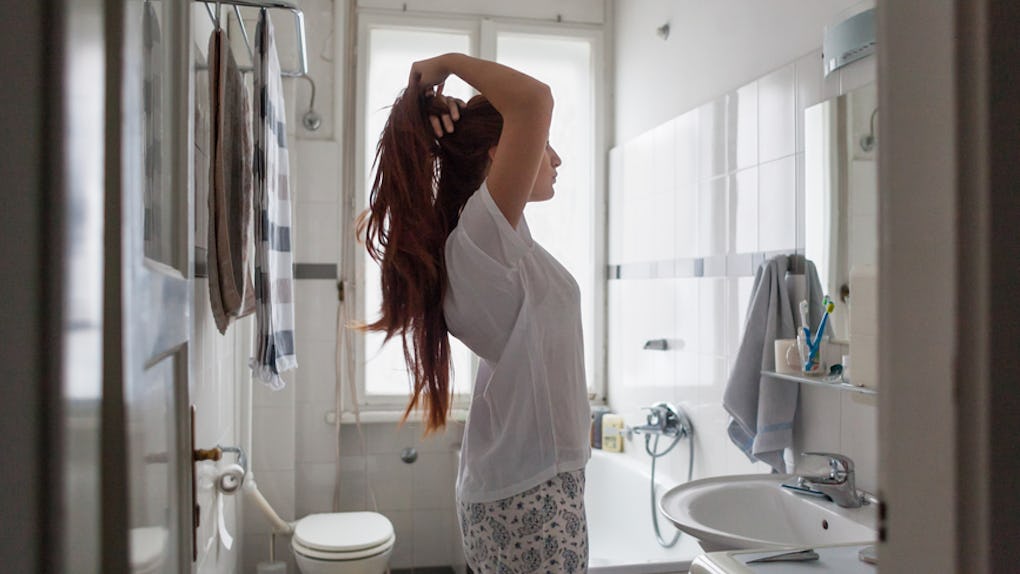 Jelena Jojic Tomic
6 Flat Iron Hacks That'll Blow Your Mind & Save You Loads Of Time
Let's get one thing clear right away: We are too busy to spend time stressing out about our hair. There are jobs to go to, friends to catch up with, Netflix shows to marathon, and so on. Getting ready every morning should be as easy and stress-free as possible, so that you can get on to the more important parts of your day. For this reason, you can never have too many flat iron hacks to turn every day into an excellent hair day.
A flat iron is an intentionally uncomplicated tool. After all, it's literally two hot ceramic plates that you smack together into a hot sandwich of sorts. There isn't that much to mess up, unless you're prone to being especially clumsy around hot objects, like I may or may not be. However, there are more ways to use a flat iron than you'd initially think. It's not that people are using it incorrectly; it's just that they might not know quite how useful it can truly be. If you understand the power of your small but mighty flat iron, you will never need another hair tool in your life. These are fighting words, I know, but take my word for it. Any type of wave, curl, or straightened strand can absolutely be accomplished with a flat iron.
Here are six flat iron hacks that you can use to turn your morning routine into a thing of pure efficiency.
1. Make Sure You Have The Right Flat Iron To Begin With
You might be trying to create magic with the wrong wand, if you know what I'm saying.
There are different flat irons available depending on what you're looking for, so make sure you're starting with the right tool before you get super frustrated watching 500 YouTube tutorials to no avail.
Here's a quick breakdown of the different types of flat irons you can have: A half-inch iron is best for those with pixie cuts and bangs, while a one-inch tool is better for generally short or thin hair. If your hair is on the longer, thicker end of the spectrum, a two-inch flat iron is ideal for you. Basically, the longer and thicker your luscious locks, the bigger/thicker your flat iron should be.
2. You Can Use Your Flat Iron To Get Curls That Look Totally Natural
For natural-looking curls with a flat iron, you should wrap your hair around the front of the tool, then pull a strand through the plates and slide the hair through.
Whichever way you wrap the hair is the way your curl is going to go. Most people tend to create curls that flow away from the face. This strategy will give those round, barrel-esque curls that you see on the red carpet all the time.
3. Braid Your Hair, Then Run A Flat Iron Over It
One lesser known flat iron hack involves running the iron over braids.
First, part your hair into two sections, which you'll then braid from the nape of your neck through to the end. Run a flat iron over those braids twice; the second time, you should hold the tool over your strands for a little longer.
The critical part of this is a repeated application of heat in short bursts. This look will give you very loose, wavy hair that looks totally natural.
4. You Can Effortlessly Curl Short Hair With Your Flat Iron
The trick to curling short hair with a flat iron is to run the tool quickly through your locks. Take a strand of hair in the iron, flip the tool once, and drag it slowly but steadily through the length of your hair.
If you hold the iron for too long, the curl will become super tight, which can be a nightmare when you have shorter hair — unless you're looking for a cheap way to get a perm, in which case, you're welcome for the tip.
5. Twist Your Hair Into Two Sections, Then Run A Flat Iron Over It
This hack is somewhat similar to the braided one: You're running a flat iron over a larger section of hair that's already been twisted.
This time, though, you're just taking two sections of hair and winding them around each other like a rope. This will give you curls that fall somewhere between wavy and round.
6. Straighten The Curls You Already Have
For those of you living with wild curls all day every day, sometimes it can be nice to take a walk on the other side of the hair universe. After all, the flat iron was originally created to straighten hair.
Since generally straightening your hair is usually about as simple as it gets, here are a few pro tips to get the most out of your straight hair:
First of all, make sure your iron is at least 400 degrees Fahrenheit, otherwise the straight hair won't last very long. Secondly, never use a flat iron on wet hair. This will break your strands by causing the water inside of your hair to literally boil away.
And finally, if you want your hair to have just a little more volume than normal, spray a bit of hairspray to the root of the strand you're straightening and prepare for lift-off.