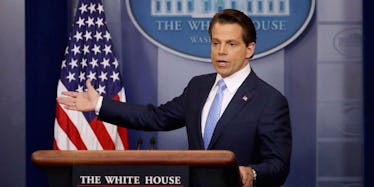 Trump Is In Need Of A Communications Director Once Again
Chip Somodevilla/Getty Images
Well, here we are. Just 10 days after he was appointed, Anthony Scaramucci was removed as White House communications director, the New York Times reports on Monday, July 31. After a series of upheavals within the White House press team, the question remains: Who will replace Scaramucci as communications director?
Elite Daily reached out to the White House for comment on the removal, but did not hear back at time of publication.
Scaramucci joined the White House in a dramatic fashion on July 21. After weeks of searching for someone, President Donald Trump picked him to be the communications director.
The search began after Mike Dubke resigned from the communications director role back in May. He had been in that position for about three months.
After Dubke's resignation, the legendary Sean Spicer took over, taking care of the roles of both communications director and press secretary for the White House. Spicer was involved in the search for his replacement, according to a report from Politico, back in June.
Finally, Trump decided he wanted Scaramucci. This was not a very popular decision with everyone else in the administration, according to various reports. Apparently, White House Chief of Staff Reince Priebus didn't want him there -- and Scaramucci had his own problems with Priebus.
Spicer was also reportedly unhappy with the decision. In fact, Spicer resigned from the White House because of the Scaramucci appointment, according to the New York Times. Ultimately, however, none of these squabbles particularly matter since, as of the past 10 days, Spicer, Scaramucci, and Priebus are all out of the White House.
With Priebus out, General John Kelly stepped in as chief of staff. One of his first moves, according to the New York Times? Kicking Scaramucci out.
Do you feel like you're reading a Pretty Little Liars recap? I feel like I'm writing one with all these twists and turns and so much drama.
To recap: Scaramucci, Spicer, and Priebus are out. Kelly and Sarah Huckabee Sanders, who was appointed press secretary 10 days ago, are in.
So, who might be able to replace Scaramucci?
Well, it has to be someone that no major player in the White House currently hates, for starters. That appears to be a more difficult qualifier than I'd like to think.
Back when Spicer was looking for someone to take on the roles of press secretary and communications director, Politico reported that he and Priebus reached out to Laura Ingraham, a conservative radio host and Fox News contributor. Ingraham reacted to Scaramucci's removal on Twitter, saying Kelly dropped a "MOAB" ("mother of all bombs") by kicking him out.
They also reportedly reached out to David Martosko, an editor at the Daily Mail. On Monday, Martosko reacted to the news of Scaramucci's firing:
With the shakeup, it could end up being that Sarah Huckabee Sanders takes on Spicer's previous role as both press secretary and communications director until our country's representatives can figure out what the hell is going on, to quote Trump on a very different topic.
Back in May, we speculated about several individuals who seemed to be in the running for a White House communications job. This included Kimberly Guilfoyle, a Fox News host who was publicly advocating for herself to get the press secretary job in May.
Or, you know what? Screw it, let's just bring Melissa McCarthy in.