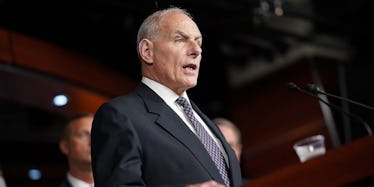 Women In Combat "Lower Standards," According To New Chief Of Staff John Kelly
Win McNamee/Getty Images
On Friday evening, Donald Trump shook up staffing in the White House — for the second time in a week. Trump announced via a tweet that he was replacing his chief of staff Reince Priebus with General John Kelly. The announcement came a week after White House Press secretary Sean Spicer resigned from Trump's team.
The appointment of Kelly, who is seen as a stabilizing figure, is hoped to bring some discipline to the White House. He's described as a "straight-laced" figure by The New York Times, and has a reputation for being unafraid to confront superiors.
So who is he?
Kelly, who currently serves as the U.S. secretary of Homeland Security, was a retired four-star general before Trump's appointment. He served three tours in Iraq, and is a Gold Star parent — his son was killed in Afghanistan in 2010. As secretary of Homeland Security, he took point on some of the president's more controversial moves, such as the so-called Muslim ban which barred people from several Muslim-majority countries from entering the United States.
But he's also not uncontroversial.
Kelly also is known for butting heads with former President Barack Obama over his opposition to closing Guantanamo Bay. He also made news for his opposition to women in combat roles in the military, saying that it would "lower standards," The Advocate points out.
At a Pentagon press conference in January of last year, shortly before he retired from his role as the head of Southern Command with the Marine Corps, Kelly said,
There will be great pressure, whether it's 12 months from now, four years from now, because the question will be asked whether we've let women into these other roles, why aren't they staying in those other roles? … I think it will be the pressure for not probably the generals that are here now, but for the generals to come, and admirals, to lower standards because that's the only way it'll work in the way that I hear some people, particularly, the agenda-driven people here in Washington -- or in the land, the way they want it to work.
It's an oddly timely echo of Donald Trump's Twitter announcement that the military would ban transgender people earlier this week — a policy shift which the Pentagon has since said would not affect transgender individuals currently serving.
But overall, Kelly seems to have the support of Washington as a whole.
USA Today reported that he was confirmed as Secretary of Homeland Security by a vote of 88-11, and that he is "respected on both sides of the aisle." Considering how troubled many of Trump's other cabinet appointments were, that's a strong vote in his favor.