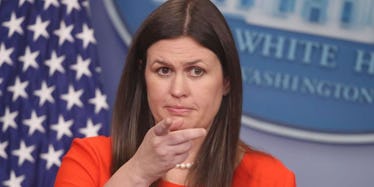 We Officially Know Who Is Replacing Sean Spicer As White House Press Secretary
Mark Wilson/Getty Images
Following the abrupt resignation of Sean Spicer, Sarah Huckabee Sanders has been confirmed as White House press secretary.
This news was announced by Anthony Scaramucci at the White House press briefing on Friday, July 21. Also at that briefing, it was confirmed that Scaramucci is the director of communications at the White House.
Scaramucci's appointment to the communications team has caused quite a bit of drama in the Trump administration. Sean Spicer did not approve of Scaramucci, according to The New York Times. This is reportedly because of his lack of official political communications experience. Elite Daily reached out to the White House for information about the resignation and Spicer's reported dislike of Scaramucci, but did not hear back at publication time.
The New York Times also reported that White House chief of staff Reince Priebus attempted to block the nomination.
After President Donald Trump offered Scaramucci the job, Spicer resigned as press secretary. Spicer tweeted that it was an "honor & privilege" to serve the president.
Scaramucci made his first appearance in the press room during a live broadcast briefing on Friday, July 21.
At the briefing, he made the announcement that Sanders is taking over as press secretary.
Spicer had been working as both communications director and press secretary since Mike Dubke resigned as communications director in May. So now, both of these positions are officially filled -- and neither by Spicer.
"Sarah Huckabee Sanders is going to be the press secretary," Scaramucci said at the briefing, amid some technical difficulties with a microphone. "So you can congratulate her after the session."
Sanders is no stranger to the White House press room. She has been in front of reporters for briefings many times in Spicer's place since May as she served as chief deputy White House press secretary.
However, many of these briefings have not been broadcast to the public, under rules stated by the Trump White House. This is a decision that has come under much scrutiny.
Sanders is also no stranger to Washington D.C. Her father is former Arkansas Governor Mike Huckabee.