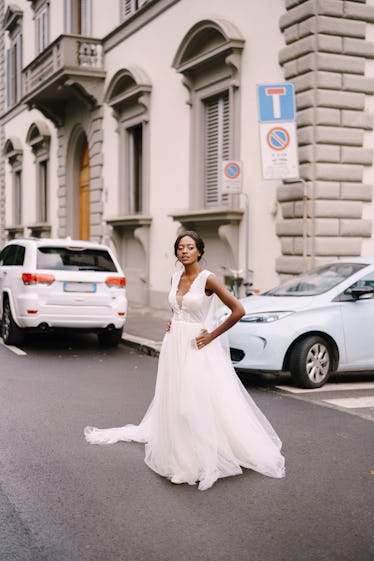 The Wedding Date To Avoid In 2023, According To An Astrologer
The cosmos won't be working in your relationship's favor.
Those wedding bells keep on ringing. In recent weeks, Jennifer Lopez's Shotgun Wedding hit Amazon's Prime Video, Disney's Fairy Tale Weddings released its 2023 collection — which featured multiple Cinderella-inspired designs — plus Clare Crawley hung up her Bachelorette title for good, announcing her big day earlier this month. So what better time to think of the best and worst days to get married in 2023 — according to astrology, anyway — than now?
If you're a fan of predictive astrology, and enjoy the guidance the planets provide, then you may've already seen that the luckiest wedding date of the year is coming up quick, so small courthouse wedding or elopement may be the way to go. The wedding date to avoid in 2023, however, is still months away, so you or your loved ones have a bit of time to think things through.
What Is The No. 1 Wedding Date To Avoid In 2023?
Thanks to an unlucky series of cosmic events, Aug. 9 is the worst date to get married this year from an astrological standpoint. The biggest disadvantage will be Venus retrograde. In astrology, Venus is the planet responsible for all things romance and relationships, so it's always a good idea to assess its condition before making a big decision related to partnerships. With Venus retrograde occurring from July 22 to Sept. 3 in the fixed fire sign of Leo, this whole timeframe won't be great to tie the knot, as it will highlight a period of review and revisions when it comes to relationships. This could look like revisiting a connection with an old flame, or reevaluating your current relationship status. Yikes.
Things really begin to take a sharp turn on Aug. 9, when Venus retrograde squares up with Uranus in Taurus, bringing disruptions and upheavals to the forefront in relationships. As a result, this will be the least lucky day to get married in 2023, since sudden, unexpected changes in partnerships are bound to take place.
The Astrology On Aug. 9, 2023, Further Explained
In a fixed sign, Venus is far more resistant to adapting to changes in relationships, but the retrograde is a period when everyone will be prompted to reconsider where things are headed. Venus retrogrades usually lead to periods of uncertainty or doubt, which is why the July 22-Sept. 3 timeframe is not the most ideal time to wed.
As Venus squares off with Uranus — planet of rebellion, defiance, and disorder — on Aug. 9, the foundation that relationships have been built on is bound to sway. For some, this may be a much-needed wake-up call; for others, it could get pretty uncomfortable, and romantic connections will be put to the test.
The Leo-ruled house in your birth chart is where you're bound to notice some shakeups when it comes to relationships, connections, or creative expression during this period; your Taurus-ruled house may experience some abrupt shifts as well. While the astrology of Aug. 9 is collectively not great, the house in your birth chart where this square will take place will cause its effects to vary. Fortunately, Aug. 9 is several months away, so if you were planning on sending out wedding invites stamped with this unfavorable date, it may be a good time to reconsider your options.