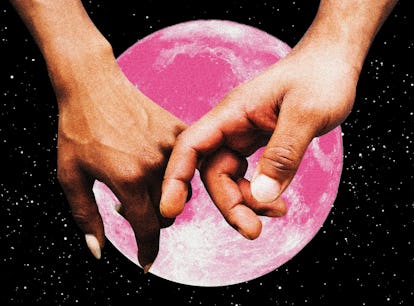 The Best Day To Get Married In 2023 Is Soon, According To Astrology
Looks like wedding SZN is already here.
Stocksy/Elite Daily
Getting married on Valentine's Day is a cute concept and all, but have you ever considered walking down the aisle based on the stars instead? Rather than exchanging vows on a Hallmark holiday — or based on first availability, the weather, just because the date sounds cute, etc. — there are some who look to the cosmos before making wedding plans, because predictive astrology can be incredibly beneficial when it comes to major life events (think: trips, hairstyles, new projects). So, if you're hoping that you picked a solid date to call your future anniversary, the best day to get married in 2023, according to astrology, can clue you in.
When Is The Luckiest Day To Get Married In 2023?
The best month to get married in 2023 is March, which is only *weeks* away. And the date is not even at the tail-end of the month like it was last year, so there's even less time to prepare. In fact, it's actually the exact opposite, at the very top of the month: March 1.
On this particular date, the Venus-Jupiter conjunction in Aries will bring rapid relationship growth into sharp focus. Although Venus — planet of love, romance, and marriage — usually faces more challenges in Aries, the support from Jupiter — planet of growth, expansion, and abundance — is bound to mitigate some of the issues the love-fueled planet can experience. Since this conjunction will take place in the action-oriented fire sign, you'll definitely be called to act fast. Perhaps a quick courthouse wedding or an elopement is in the cards?
The Astrology On March 1, 2023, Further Explained
Not only will Venus and Jupiter link up in Aries, but the sun and moon will form a harmonious trine, promoting support, ease, and heightened intuition. The sun in Pisces will form an easy aspect with the moon in her home sign of Cancer, emphasizing sensitivity, emotions, and the desire to nurture others. While Venus and Jupiter transiting through a fire sign is bound to keep things spicy, the heavy water influence will ensure that you're in complete alignment with your natural instincts on this day.
The only foreseeable challenge is that Mercury — planet of communication — will be conjoining Saturn in Aquarius, creating difficulties when it comes to communicating effectively. This transit could potentially lead to some doubts when it comes to making sudden decisions that weren't premeditated. Fortunately, the beneficial energy of Venus and Jupiter is bound to outshine these challenges, especially since they're both the most advantageous planets in the sky.
Be sure to keep a close eye on your Aries-ruled house on this day to fully understand how the beneficial energy of Venus and Jupiter will play out. Regardless of the house in your birth chart this transit takes place in, you're bound to feel a sense of ease and support in this area of your life, so be sure to take full advantage.