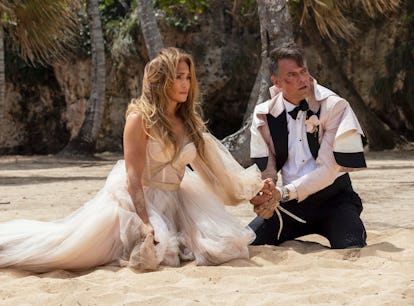 Where Is Shotgun Wedding Filmed? It's A Dream Wedding Destination
It's giving White Lotus Resort vibes.
Ana Carballosa/Lionsgate
Mini skirts and butterfly clips aren't the only trends back from the early 2000s — romantic comedies are here as well. The rom-comassaince that many of us Nora Ephron and Nancy Meyers fans have been wishing for is happening, and one of the most anticipated rom-coms of 2023 is Shotgun Wedding. Starring Jennifer Lopez, Josh Duhamel, and Jennifer Coolidge, the film will drop on Amazon's Prime Video on Jan. 27, and revolves around a destination wedding gone wrong. The location is just as much a character in the film, which is why you might be wondering, where was Shotgun Wedding filmed?
Destination weddings may not always be the most budget-friendly option for couples and their guests, but there's no denying it's an Insta-worthy one. Just imagine saying "I do" on a white sand beach with crystal blue water in the background and a cool breeze blowing through your veil. Sounds dreamy, right? Well, that's what Darcy (Lopez) and Tom (Duhamel) hoped for in Shotgun Wedding, but they got a hostage situation instead. No one can fault the location, though. It's still giving picturesque in every way, which is why you may want to plan a trip to visit some of the Shotgun Wedding filming locations.
Where Was Shotgun Wedding Filmed?
From the Shotgun Wedding trailer, it looks like a majority of the film is set at a luxurious resort where the wedding is supposed to take place. According to IMDb, that resort is the ÀNI Dominican Republic in Rio San Juan, Dominican Republic. This is where a majority of Shotgun Wedding was filmed, and the luxury resort sits on a private peninsula with almost 360 degrees views of gorgeous water all around. When you book the ÀNI, it can accommodate up to 28 guests with a team of 30 staff members who are there to help you during your stay.
It truly is the perfect place for a destination wedding IRL, and even comes with an all-inclusive experience. The experience covers everything from personalized meals to spa treatments and planned excursions. As gorgeous as the filming location is, it wasn't always relaxing to shoot Shotgun Wedding there.
On The Tonight Show Starring Jimmy Fallon, Duhamel shared that when he had some time off from shooting, he decided to check out a cove near his green room. Earlier, the water was "perfectly calm" and "turqoise." However, when he went back to check it out a week later, the waves were "tumultuous" and almost knocked him off the cliff. Thankfully, he survived. If you decide to visit this Shotgun Wedding location, you may want to just stick to relaxing at resort and getting a massage at the spa.
The ÀNI resort isn't the only location in the Dominican Republic where Shotgun Wedding was filmed. Sceen It also reports that Juan Dolio, Cabrera, Sanchez, and Samana were other areas in the DR that were used for production. The outlet also mentions Playa Grande, which is a beautiful beach about 12 minutes away from the ÀNI, so if you're planning a Shotgun Wedding-inspired trip, you'll want to add all these spots to your list.
While you'll need your passport to visit the Domincan Republic, another Shotgun Wedding location is a little closer to home. They reportedly also filmed some scenes in Boston, Massachusetts as well, making it a fun domestic option for set-jetters.