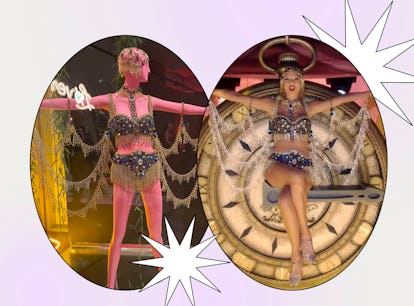 The "Taylor Swift: Storyteller" Exhibit In NYC Is Vault Full Of Eras
Also, get a close look at some Speak Now (Taylor's Version) easter eggs you may have missed.
Rachel Chapman/Taylor Swift/Elite Daily
As a welcome to New York leading up to her concerts at the MetLife Stadium, the Museum of Arts and Design unveiled a Taylor Swift exhibit on May 20. Celebrating every Swift era from her debut to Midnights, "Taylor Swift: Storyteller" includes costumes, props, and jewelry from live performances, music videos, and album covers. While in town for The Eras Tour, I stopped by the Taylor Swift exhibit in NYC and was surprised at how emotional I got. Of course, Swift often makes me tear up with her relatable lyrics and iconic bridges, but crying while staring at a bejeweled guitar isn't something I've done before.
While The Eras Tour immerses Swifties into her career-spanning discography, the exhibit near Columbus Circle in Manhattan is like stepping inside a Taylor Swift vault. If Swift has a closet somewhere for all of the outfits and costumes she's ever worn, this is just a glimpse into what it would look like. It's a must-do for casual Swifties to professional puzzle-solving ones. In fact, you may find some easter eggs that hinted to Speak Now (Taylor's Version) before it was announced. Whether you live in NYC or are visiting some time this summer, stopping by MAD for the "Taylor Swift: Storyteller" exhibit should go on every Swiftie's to-do list. Along with bringing a tissue or two, here's everything you need to know about the Taylor Swift NYC exhibit.
Inside The "Taylor Swift: Storyteller" Exhibit In NYC
"Taylor Swift: Storyteller" is located on the second floor of the Museum of Arts and Design, which is at 2 Columbus Circle. It's not a huge exhibit, so if you're only there for Swift, it'll take you about 15 minutes to walk through. However, the other exhibits at MAD are definitely worth checking out for a nice afternoon in the city. Make sure you spot the painting of Benjamin Button — Swift's cat — from her "Lover" music video before walking up the stairs.
You can take as many photos and videos as you want, so capture content for a TikTok video. One Insta-worthy spot to snap a selfie is in front of a wall of Swift's handwritten lyrics to "All Too Well." The exhibit also plays All Too Well: The Short Film along with other music videos represented in the museum, which is partly why I found myself tearing up. I'm a pretty emotional person, who has also cried at a BTS pop-up in Los Angeles, and as an OG Swiftie from her "Teardrops On My Guitar" days, this was definitely a "that's my baby and I'm proud" moment.
Some highlights include seeing all the names of the Swift squad like Selena Gomez and Gigi Hadid on the Junior Jewels tee from the "Look What You Made Me Do" music video, a dress she wore during her debut era in 2006, and the shimmering outfits she donned in the "Bejeweled" music video.
How Much Are The "Taylor Swift: Storyteller" Exhibit Tickets In NYC?
General Admission tickets to the Museum of Arts and Design won't get you into the "Taylor Swift: Storyteller" exhibit. You need an all access ticket, which is $25. There is timed entry as well, from 10 a.m. to 5 p.m., so plan your day accordingly. Your ticket will also get you entry into the other exhibits at the museum. The "Taylor Swift: Storyteller" exhibit runs from now through Sept. 4.
What Can I Buy At The Taylor Swift Exhibit In NYC?
There is a museum gift shop on the first floor that has some official Swift merch for purchase — though there is a very limited stock. They also have Swift-adjacent merch that includes cat books and pillows with lyrics like "this is why we can't have nice things" on them. While it is easier to cop than Eras Tour merch, there wasn't anything special or as viral as the famed blue crewneck that was worth picking up, IMHO. In fact, the official Swift merch at the gift shop was priced higher than what it is online, so you're better off just buying from there. Here's what was available:
Official Red (Taylor's Version) Grey Crewneck — $80
Official Lover Valentine's Day Cards and Stickers — $32
Official Fearless (Taylor's Version) Christmas Ornament — $19
Official evermore Notebook — $30
Taylor Swift Lyric Pillow — $135
Overall, if you're not trying to save up every last penny to afford last-minute tickets to The Eras Tour, a stop at the Taylor Swift exhibit is definitely worth a visit. It may even be a cheaper way of revisiting all her eras if you can't go to the show.