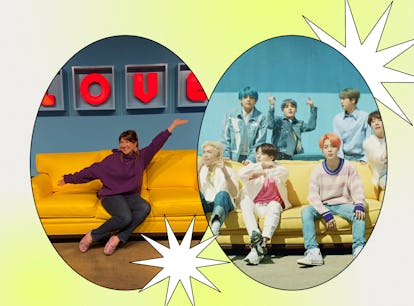 The BTS Exhibition: Proof Pop-Up In Los Angeles Is An Emotional Experience
The $50 ticket was worth it, IMHO.
Rachel Chapman/BTS/Elite Daily
Even though BTS may currently be on hiatus, that doesn't mean they're necessarily taking a break. After all, the best is yet to come and members like J-Hope, Jin, RM, Jimin, and Suga have all released solo music since the break was announced. Suga (aka Agust D) is currently on tour in the U.S., and just in time to celebrate his residency at the Kia Forum, there is a BTS pop-up exhibit in Los Angeles that was made just for ARMY.
BTS Exhibition: Proof was announced in April with tickets on sale from May through June. Inspired by BTS' most recent anthology album, the Proof pop-up takes fans on a journey through the band's 10 years of making music together. While a majority of the exhibit doesn't allow for photos or videos, there are some Insta-worthy moments where you can snap a pic on the couch from the "Boy With Luv" music video or take a selfie with the costumes BTS wore in "Yet To Come (The Most Beautiful Moment)." The exhibition is one part nostalgic museum filled with photos and music video sets, and one part pop-up shop with exclusive merch.
I was able to stop by the BTS Exhibition: Proof on opening day to see whether the experience is worth the price of admission, and found myself on an emotional roller coaster. To say I'm sad that BTS is currently taking a break as members fulfill their mandatory military service would be an understatement. There are times when the reality that they won't reunite until 2025 hits me, and I find myself crying. Those moments definitely happened while walking through the exhibition with large photos of each member of BTS staring right at me. While looking at a wall filled with photos of BTS from each of their eras, I caught another fan with tears in their eyes and we gave each other a somber and silent "I get it" look.
Tickets for the BTS Exhibition: Proof in Los Angeles are on the pricey side, ranging from $50 to $60 depending on the day you go. That may seem expensive for just a museum and pop-up shop, so my friends didn't jump at the chance to buy tickets when they went on sale. After going through the exhibit, I texted them that it was totally worth it for ARMY to see at least once. Luckily, tickets are still available. If you were also on the fence about going and interested now, here's everything you need to know about the BTS pop-up in Los Angeles.
Inside BTS Exhibition: Proof Pop-Up In Los Angeles
Where Is The BTS Proof Pop-Up Located In LA?
The Proof pop-up is located at the 3rd Street Promenade (1232 Third Street) in Santa Monica. The touristy area has tons of shops and restaurants for a fun outing with your ARMY friends. There is also plenty of parking around the promenade as well. I found a garage that wasn't too far from the exhibit, and it only cost me $2 for the time it took me to wait in line, go through the exhibit, purchase merch, and grab a coffee for the drive home.
There are two store fronts dedicated to the BTS exhibit, which are right across from each other. One is for the actual pop-up and the other is for the store with all the exclusive BTS merch. You cannot go into the pop-up shop without a ticket to the exhibit.
Stop by the exhibition first. You'll have 80 minutes to explore the museum on your own. I had to wait in a 15-minute line to get into the exhibit, so factor that into your day. The BTS pop-up is open Tuesday through Sunday from 10 a.m. to 8:20 p.m. Tickets for Tuesday through Thursday are $50, Friday is $55, and weekends are $60.
What Can I Buy At The BTS Exhibition: Proof In Los Angeles?
The exclusive merch for the BTS Exhibition in Los Angeles was sparse. Overall, they had:
BTS Exhibition: Proof Hoodie ($90)
BTS Exhibition: Proof T-Shirt ($45)
BTS Exhibition: Proof Bucket Hat ($45)
Photocard Holder Set ($45)
Photo Bookmark ($35)
Lenticular Postcard Set ($25)
Poster Set ($20)
Lucky Draw Sticker Set ($15)
The one item that was probably the most worth it to me was the lenticular postcard. In the exhibit, there was a section where you could watch a video of each member from their postcard shoot. If you have a bias, a postcard version of their video is a great souvenir that will remind you of the exhibit and can be placed on your WFH desk. Other than that, you're already spending $50 to visit the exhibit — the photos and memories you make are enough.
The BTS Exhibition: Proof pop-up is a great reminder that BTS is still very much around and here for their fans. It's also a great distraction as you patiently wait for 2025 to come.