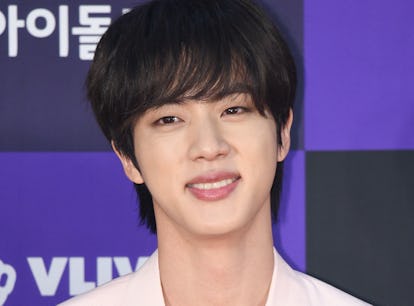 BTS' Jin Expressed Hope In This Video About His Military Enlistment
The Chosunilbo JNS/ImaZinS/Getty Images
BTS member Jin is feeling hopeful about the future. In early December 2022, the singer became the first member of the band to begin his mandatory military service. However, before he left for basic training, Jin shared a sweet message to the group's dedicated ARMY fanbase.
"Hello everyone, this is Jin of BTS. I won't be a civilian by the time the video is out. But I am here in front of the camera because I wanted to leave you something, even if it is just leaving a message," Jin said in the Jan. 9 video that appeared on the Bangtan TV YouTube channel.
According to the "Astronaut" singer, the video was filmed in between shooting an episode for the Korean variety show Running Man. He appeared on the popular show in November 2022, nearly a month prior to his enlistment on Dec. 13. This time span can also be visibly seen by his long hair. Ahead of his service, Jin shared a selfie of his new buzzcut commonly known as the "induction cut," according to Billboard.
In the clip, Jin noted that recording these intimate videos would become a staple in staying in touching with fans. The singer is expected to complete his mandatory service within 18 months, which is the standard length in South Korea.
"Whenever I am available I wish to leave these videos and records once every few months to share with you as much as possible, even if it's just checking in briefly," he said.
He then concluded the video with a heartfelt, almost poetic sign-off. "I may not be by your side, but I'll go looking for you soon, if you just wait a little. I'll be back soon. That's all for today. Next time when I have the time, I'll share another video."
The latter half of 2022 was a somber year for the ARMY. After months of speculation on when the group would enlist, BTS' agency BigHit Music announced in October the band will go on hiatus to allow each member to complete their service. According to their agency, BTS will reunite in 2025 once their service commitment is completed.