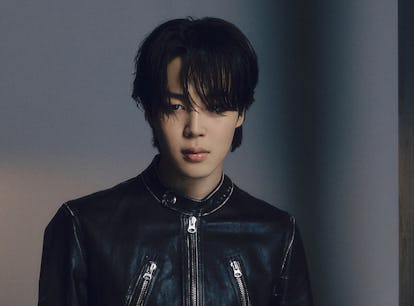 Jimin Is An Unfiltered Legend On His Latest Single
"I never stop, f*ck all your opps."
BIGHIT MUSIC
Though Jimin is in the early throes of his solo career, he's already commanding attention. He tapped into that aura on his latest single "Set Me Free Pt. 2," the first taste of his upcoming debut album, Face. This track, which dropped alongside a music video on March 17, rumbles with a tenacity that's both admirable and impressive. It's clear that Jimin wants to pave his own lane as a solo artist, and that sound isn't censored. He's creatively renewed, savage, and hungry to be seen— interestingly, features that make up the bulk of this release.
Jimin first teased "Set Me Free" on March 14, nearly a week after he flaunted his new aesthetic for Face on Instagram. It seems he's in his brooding era, as the concept for the album — slated to release on March 24 — involves minimalist 'fits (black leather jackets and all-white two pieces) and slight futuristic elements that resemble works like Psycho Pass and Ex Machina.
Upon the release of the teaser, many ARMYs noticed the 'part two' bit in the title. Being that this is Jimin's first solo track of that name, fans believed it would be a thematic response to fellow BTS member SUGA and his interlude, "Set Me Free," from his 2020 D2 mixtape. It appears the fans were onto something, as Jimin confirmed to Consequence on March 17 that his release wasn't exactly connected to SUGA's, but rather a nod.
"There isn't a connection, and we weren't trying to divide part one or part two. But since it turns out my song talks about freedom and moving forward, and SUGA's song talks about some of the stories that come before, I thought it would be good to come after that," Jimin said.
Lyrically, Jimin's "Set Me Free" does feel free, and sees him trying to detach from haters who don't support his artistic vision. Their negativity is keeping him from reaching his full potential, and he's eager to explore what's destined for his future. Get the explanation behind the track below.
Pulsing in with haunting hails, Jimin's assertive and rather cutthroat to his burdensome emotions. That boldness might stem from a little liquid coverage, as he sings that he "wandered into a maze" with a bottle of Hennessy. Nonetheless, Jimin is ready to free himself from those who don't believe in him, because he won't tolerate anyone praying on his downfall.
"I never stop, I never stop / Again, repeat / I never stop, f*ck all your opps / Finally free," he coos, his naturally high voice awash in autotune.
The autotune mixes well with the track's trap-inspired production, especially in the refrain. There, Jimin seamlessly flows on how he's ready to leave his non-sayers in the dust.
"Ah, yeah, ah, yeah / I'm standing at the edge / Not yet, not yet / I won't look back / Now yeah, now yeah / Fly away, butterfly / Finally free."
That starvation for freedom explodes in the chorus, where Jimin infectiously coos "free" in several harmonies. As he builds to the pre-chorus after the second verse, those horns (which are eerily reminiscent of J. Cole's "Middle Child") blare with the same desire Jimin has to be freed from everyone else's thoughts. A small part of him understands how frightening it can be to be your true self, especially when haters have pushed a certain image on you. However, he longer wants to exist as that preconceived figure.
"Look at me now / I won't stop, even if they mock me / Going insane to stay sane / Raise your hands for the past me," he wails.
Clearly, this is Jimin's world and we're living in it. That can be seen in the track's music video, which sees Jimin at the center of attention as grey-clad dancers glide around him. Yeah, Jimin's upcoming era will be one for the books.
Check out the music video to "Set Me Free Pt. 2" below, and the full lyrics on Genius.