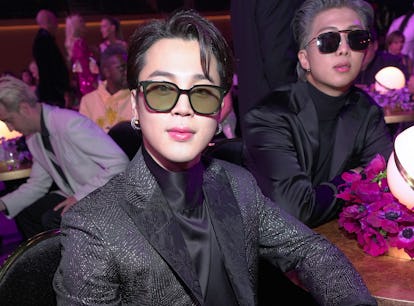 Is BTS' Jimin Making His Solo Debut Next Month? What To Know
👀👀👀
Kevin Mazur/Getty Images Entertainment/Getty Images
Get ready, ARMY, because Jimin may be the next member of BTS to release new music. On Jan. 16, the Korean news outlet Sports Donga reported the star is preparing to drop his first-ever solo album in February. If it's true, that would make Jimin the fourth member of the group to make his solo debut. So, what are the chances he'll release a full-length record next month? BTS' label, BigHit Music, responded to the rumors, and what they had to say was pretty cryptic.
According to Rolling Stone India, the company addressed speculation regarding Jimin's solo debut through via XportNews and MyDaily. "[We are] currently coordinating schedules with regards to BTS Jimin's solo and will share more details once finalized," BigHit reportedly said in their statement. Although the label didn't reveal when Jimin would be releasing music, their statement excited fans because it confirmed that he was gearing up to make his long-awaited solo debut soon.
In fact, ARMY got so pumped about the possibility, they got phrases like "PJM1 IS COMING" and "FEBRUARY IS FOR JIMIN" reportedly trending on Twitter.
Last year, J-Hope became the first member of BTS to make his solo debut by dropping his album Jack In The Box in July. The record featured his singles "MORE" and "Arson," both of which he performed while headlining Lollapalooza later that month. Afterward, Jin made his solo debut in October with his single "The Astronaut," which he co-wrote with Coldplay. The track arrived just before Jin embarked on his mandatory military service in December. Following Jin, RM became the latest member to have dropped solo music by unveiling his first full-length album, Indigo, on Dec. 2.
Reports about Jimin's solo debut come just days after he featured on Taeyang's latest single "Vibe" on Jan. 13. While you wait for more info about his upcoming project, stream Jimin's collaboration with Taeyang below.