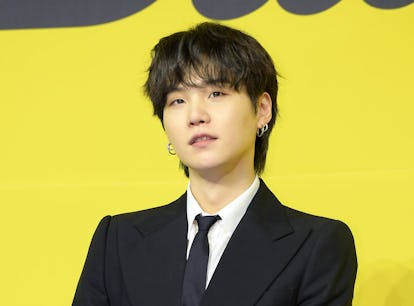 BTS's Suga & His Alter Ego Are In Album Mode With 'D-Day'
It completes the rapper's trilogy of mixtapes.
The Chosunilbo JNS/ImaZinS/Getty Images
It's no secret that BTS is on a hiatus. But that hasn't discouraged the group's members from furthering their solo careers in the most iconic ways. The latest member to add a new project to their discography? Suga and his charismatic alias, Agust D. To kick off the month, BigHit Music announced Suga will release his upcoming album, D-Day, under his alter ego tag on April 21. Clearly, the Army is staying well-fed with all this new music.
According to a press release, D-Day will close out Suga-meets-Agust-D's trilogy of mixtapes. The rapper released two mixtapes under the moniker while in BTS: 2016's Agust D and 2020's D-2. With this underground world as Agust D (a combination of his name backward and the initials of his hometown, Daegu Town), the rapper began embracing his lyrically raw bravado over trap-inspired beats.
Suga has also leaned into an impressive mix of R&B and rock on both mixtapes, so there's a chance he might fuse those genres on his upcoming album. According to BigHit, the rapper is creatively all in on this record. "SUGA took part in the overall songwriting and producing of the album," BigHit said in a press release, per Rolling Stone. The label also revealed D-Day's lead single will drop on April 7.
This album reveal comes weeks before Suga will embark on his debut solo tour, which also features Agust D as a "guest." The "Girl of My Dreams" star first announced the tour in February, and will visit cities across the United States, Southeast Asia, and South Korea until late June.
Here's everything to know about Suga/Agust D's D-Day album.
D-Day's Release Date
Suga's forthcoming solo album will drop on April 21, 2023.
D-Day's Track List
On Apr. 9, Suga released the track list for D-Day on Instagram.
"Haegeum"
"People Pt. 2" with IU
"D-Day"
"HUH?!" featuring j-hope
"AMYGDALA"
"SDL"
"Polar Night"
"Interlude : Dawn"
"Snooze" featuring Ryuichi Sakamoto, Woosung of The Rose
"Life Goes On"
Will Suga perform D-Day on his upcoming tour?
With D-Day releasing in late April, there's a chance Suga might perform the album on later dates in the tour. Neither he nor BigHit has announced what the tour's set list will be; however, it's strongly believed the rapper will tap into heavy-hitting tracks from both his Agust D mixtapes.