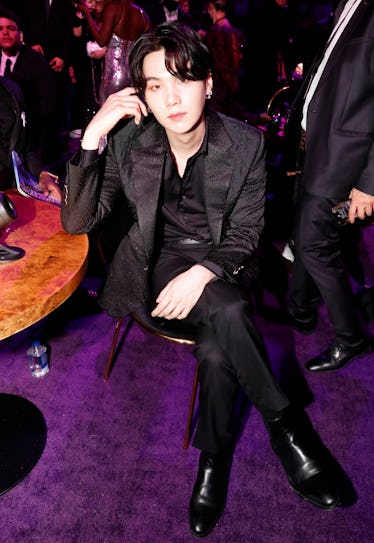 The Journey To Get Tickets For SUGA's Tour Begins Now
This marks the first-ever solo tour for a BTS member.
Johnny Nunez/Getty Images Entertainment/Getty Images
BTS knows how to make music history, so it's no surprise that title has rubbed off on the individual members' solo careers. The latest member to hold that crown is SUGA, who recently announced he's going on his first world tour this summer. This stint adds another commendable mark for the group, as SUGA will be the first BTS member to hit the road solo.
On Feb. 14, the "Girl Of My Dreams" rapper shared the dates for his upcoming tour. The tour starts in April and sees SUGA visiting cities across the U.S., Southeast Asia, and South Korea until late June. According to a press release, he will also perform in Japan; however, the dates have yet to be announced. Many fans noticed SUGA also used his second stage name, Agust D, on the tour's cover art. IYDK, he released two mixtapes (2016's Agust D and D2) under that moniker, so ARMYs could hear some of his past bops on tour.
Now, there's a chance fans might need to buckle in when purchasing tickets. Following the announcement of SUGA's tour, Weverse — a fandom platform dedicated to K-pop idols — revealed that fans can only buy tickets on Ticketmaster. SUGA is offering a verified fan registration for the tour's presale, which begins on Mar. 1. According to Weverse, only ARMY Members will have first access to pre-sale tickets, so fans must apply to become a holder on Ticketmaster.
While this process is supposed to give registered fans first dibs on tickets, it's not always likely (ahem, Ticketmaster's ongoing drama in Taylor Swift's Eras tour). On Mar. 2, remaining tickets will be available during a Verified Fan presale. Any tickets available after that can be purchased in a general sale that following day.
SUGA's final tour stop in South Korea is sure to be an emotional one, especially since he last performed there with BTS in October 2022. That concert, which was part of their Yet to Come tour, was the group's last show for a while as they're currently on hiatus to complete their mandatory military service. So far, Jin has already began his military enlistment. Meanwhile, SUGA and his bandmates Jung Kook, RM, and J-Hope have released solo music in the last year.
Here's more to know about SUGA's upcoming tour.
When does SUGA's tour begin?
SUGA's tour will kick off with two shows in New York on April 26 and 27.
What will SUGA perform on tour?
SUGA nor BTS' label BigHit have released a setlist for his upcoming tour. However, being that both his BTS stage name and rapper moniker are featured on the tour art, SUGA could perform singles from his solo mixtapes.
His hits like "Agust D" and "'Give It To Me" would be perfect contenders, as both records excite with pummeling beats and SUGA's slick, rapid-fire delivery.
Where will SUGA visit on his solo tour?
SUGA's 20-date world tour begins with the North American leg, which sees him trekking through New York, New Jersey, California, and Illinois. After touring the U.S., Suga will head to Indonesia, Thailand, and Singapore and close out with two shows in Seoul, South Korea on June 24 and 25.
Apr. 26 & 27 in Belmont Park, NY at UBS Arena
Apr. 29 in Newark, NJ at Prudential Center
May 3, 5 & 6 in Rosemont, IL at Allstate Arena
May 10, 11, & 14 in Los Angeles, CA at Kia Forum
May 16 & 17 in Oakland, CA at Oakland Arena
May 26 – 28 in Jakarta, ID at Indonesia Convention Exhibition (ICE BSD) Hall 5-6
June 10 & 11 in Bangkok, TH at Impact Arena
June 17 & 18 in Singapore, SG at Singapore Indoor Stadium
June 24 & 25 in Seoul, KR at Jamsil Indoor Stadium
When do tickets for SUGA's world tour go on sale?
ARMYs can now register for the Mar. 1 presale, which will be available from 3 p.m. to 10 p.m. local time. After the presale, fans can score tickets through the Verified Fan presale on Mar. 2 at the same time. If tickets are still available, a general public sale will take place on Mar. 3 at 3 p.m. local time.
The "That That" rapper has such a magnifying presence on stage, so it'll be a crime to miss one of these shows.