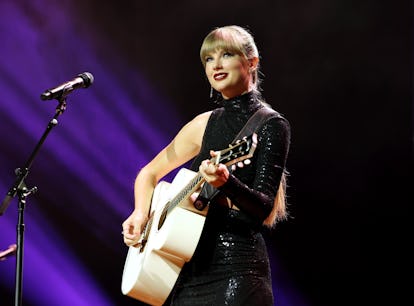 These Taylor Swift Quotes At The Senate Ticketmaster Hearing Are A Lot
Trying to outdo the Easter egg queen.
Terry Wyatt/Getty Images Entertainment/Getty Images
You're probably still having nightmares about the great Eras Tour Fiasco of 2022, but now Ticketmaster is in the hot seat. The company had its hearing with the Senate Judiciary Committee on Jan. 24, and in between questions, there were some very familiar soundbites. Taking a cue from the queen of Easter eggs herself, senators on the committee could not stop quoting Taylor Swift lyrics during the hearing — and it was very cringey.
Co-helmed by Sen. Amy Klobuchar (D-Minnesota) and Sen. Mike Lee (R-Utah), the hearing kicked off with a Swift quote. "To have a strong capitalist system, you have to have competition, you can't have too much consolidation — something that unfortunately for this country, as an ode to Taylor Swift, I will say we know 'All Too Well,'" Klobuchar said.
There were no accompanying red scarf or Jake Gyllenhaal references, but the hearing would've been the perfect time for Klobuchar to say "f*ck the patriarchy." Instead, the senator went on to call Ticketmaster's 2010 merger with Live Nation a "monopoly," saying, "Live Nation is so powerful that it doesn't even need to exert pressure, it doesn't need to threaten, because people just fall in line," according to Axios.
During his testimony, president and chief financial officer of Live Nation Entertainment Joe Berchtold blamed the Eras tour disaster on bots, claiming that even after planning for influx of scalpers, the company was hit with "three times the amount of bot traffic" than its ever experienced. "While the bots failed to penetrate our systems or acquire any tickets, the attack required to slow down, and even pause, our sales," said Berchtold.
The pause in sales led to many Swifties waiting for hours in virtual queues and many fans not getting tickets at all.
In her Nov. 18 statement regarding the Ticketmaster saga, Swift shared that she asked the company if it was capable of handling the expectedly high demand "multiple times," and was assured it could. Berchtold offered an apology to the singer during the Jan. 24 hearing. "We need to do better, and we will do better," Berchtold said.
Later in the hearing, chief executive of SeatGeek Jack Groetzinger asserted that the "only way to restore competition in this industry is to break up Ticketmaster and Live Nation," according to The New York Times.
While Swift wasn't there, other artists who have worked with Ticketmaster testified to how the "monopoly" works in practice. Clyde Lawrence of the band Lawrence explained how when Ticketmaster serves as the promotor, the venue, and the ticketing system, it's basically negotiating with itself for line items like charging $250 for towels in an artist's dressing room.
The hearing lasted nearly three hours, and it looks like the millennial and Gen Z staffers were ready to fill the time with Swift references — because there were plenty, and something tells me these senators didn't have "Midnights" in their Spotify Wrapped.
When Sen. Lee from Utah had the floor, he couldn't resist tossing in a "Blank Space" reference, and even ended his speech with a little "Karma," too:
The senator also quoted Swift's country pop classic, "You Belong With Me":
Sen. Richard Blumenthal (D-Connecticut) must've heard "Anti-Hero" on the drive over to the hearing, because he was not having Ticketmaster's excuse that Swift's lack of shows prior to the sale was the reason for the issues.
Do you think Sen. Klobuchar listens to "All Too Well (10 minute version) (Taylor's version)", too?
He may not be a senator, but senior vice president of The James Madison Institute Sal Nuzzo testified as a witness and referenced Reputation deep cut, "This Is Why We Can't Have Nice Things."
People on Twitter seemed to think the lyrical lashings got real old, real fast:
The hearing wasn't just a wannabe Taylor Swift karaoke party. The testimonies got a bit heated at times, like when Sen. John Kennedy told Berchtold that the person responsible for the Eras tour catastrophe "ought to be fired." Sen. Josh Hawley (R-Missouri) called upon the Federal Trade Commission (FTC) and Justice Department to "sue them, for heaven's sakes," according to NBC News.
Government officials attempted to take Ticketmaster to task, but the next steps remain unclear. Sen. Klobuchar indicated that issues like counteracting against bots and resell limits can be handled by legislation, and has even proposed a bill to restructure merger fees and strengthen antitrust enforcement, but there's not consensus with her Republican colleagues. Sen. Mike Lee didn't count legislation as the better course of action over "better enforcement of existing laws," per Reuters.
But the big issue concerning lack of competition will be left to the Justice Department, which will decide how to move forward with the ticketing conglomerate. Reports of a DOJ investigation into Live Nation began just days after Ticketmaster canceled the Eras tour public sale in November 2022, though the current status of the investigation is unclear. Per The New York Times, the Justice Department may be looking into whether the company "maintains a monopoly over the industry." Whatever happens, I just hope there's a revenge song called "Monopoly" on a future T. Swift album.