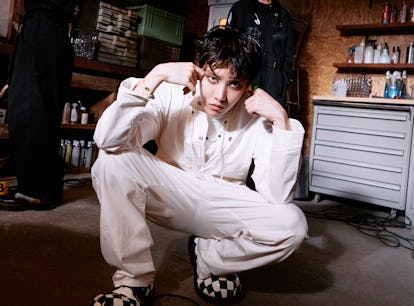 The Most Thrilling Revelations From J-Hope IN THE BOX
First of all, the man hugs everyone.
HYBE
The most revealing moment of j-hope IN THE BOX happens in an elevator. Inside, it's so quiet you can almost hear the thump of j-hope's heartbeat. Just outside its doors, 100 or so of his industry peers have gathered at his management company's Seoul headquarters for the first listen of his debut album, Jack In The Box. There's loud music, neon lights, and fancy themed dishes and bougie cocktails. It's exactly what he envisioned. Inside, j-hope spends his final peaceful moments like this: He takes a deep breath, exhales, and puts a smile on his face. Then, he asks himself, "Who are you? What are you doing here? You can do this, right?"
When he emerges from the lift, he's j-hope — artist, dancer, rapper, producer, and one-seventh of the most famous boy band in the world, BTS. It's mid-July 2022, just a few hours before the release of Jack In The Box, and in 17 days, he'll make his solo debut in front of more than 70,000 people on the Lollapalooza stage as the festival's first-ever Korean headliner.
The new Disney+ film, j-hope IN THE BOX, captures the lead-up to this historic performance, documenting the creation of Jack In The Box and its promotional rollout, while also examining the reality of going solo. As the first member of BTS to release a complete body of work since the group's hiatus announcement in June 2022, j-hope feels the pressure. He's also invigorated by it.
After working nonstop for the past decade, no one would have faulted j-hope for taking an extended break from the 24/7 grind of superstardom. He knows this. Throughout the film, he acknowledges that the stress he feels is the result of his own choices — that at any moment, he could stop and save the work for another day. But that's not his style. He needs to create, to feel the music ignite his soul and set the mic ablaze, no matter how tedious or painful the process. It's the meaning behind his song "Arson," a gritty, primal hip-hop track in which he compares his passion to a flame.
He films himself recording the song in his studio, Hope World, roughly 221 days before Lolla, the footage of which appears within the first 15 minutes of the film. He wanted to log the entire experience, from start to finish. "I'm stressed," he says. "Maybe I bit off more than I can chew." Then, his determination takes over.
Jung Hoseok has always been perceptive. As j-hope, he possesses a superhuman ability to think positively. On "Ego," a track featured on BTS's 2020 album, 7, he reflects on the path that led him to the group and the hardships and self-doubt that nearly derailed him. Those struggles, he raps, became his comfort and illuminated his path forward. He calls it destiny. J-hope IN THE BOX conveys a similar message, that through it all there's always hope to be found. Here's every revelatory moment from the documentary:
He's been conceptualizing Jack In The Box since 2019.
While mixing in his studio, he says the idea for Jack In The Box came to him shortly after the release of his 2018 mixtape, Hope World. Bright and uplifting, that project best expressed his feel-good energy and talent for writing pop hooks. It's so meaningful to him that he named his own studio after it — and his parents have a large stone in their yard engraved with the same idyllic sentiment. In comparison, Jack In The Box, his first LP, is sonically grittier and more experimental. He's playing with a variety of sounds and more mature themes. Lyrically, it's more incisive and incendiary, yet no less hopeful. Songs like "= (Equal Sign)" and "Future" are classic j-hope: optimistic and forward-thinking.
He visualizes these two works as representing different parts of himself. "With Hope World, I was still inside the box," he says. "I always wondered if that was who I really was. I'm not saying that wasn't me. That's part of who I am. But at the same time, I want to show a more mature side of me." No longer basking in the warmth of Hope World, Jack In The Box is about his experiences outside of the box, exposed to the real world.
This was his first time being in charge of everything (emphasis on everything).
Being a solo artist, frankly, looks exhausting. But that's demonstrative of the level of care and attention to detail j-hope brings to every aspect of the creative process. There are the obvious things, like writing and producing an entire album, curating his Lolla setlist, and contributing to the performance's staging and choreography. And then there's the minutiae: hand-picking the menu for his listening party, personally DMing all of its celebrity attendees, approving live arrangements and concept videos, monitoring the expressions on his dancers' faces. (During Lolla rehearsals inside Chicago's Rosemont Theatre, he expresses his concern over the dancers' chemistry with one another.)
For the first time in his career, j-hope is in complete control — even producer Bang Si-hyuk, who created HYBE and put BTS together, took a step back. "I told him I wanted to show him what I've always wanted to do," j-hope says. "I'm in charge of everything for the first time. I have to decide what's good and what's not."
And while, yes, it's stressful to make all of the decisions — on several occasions, he talks about staying up all night to finish his work in time — he does it because, he says, "I love what I do." He sees challenges as opportunities to "grow as an artist."
He believes BTS's hiatus will bring them closer together as a group.
With BTS on hiatus, each member has been focusing on their own individual endeavors before they have to complete their mandatory military service in South Korea. Jin dropped "The Astronaut" before his enlistment late last year; SUGA recently announced a world tour as his alter ego Agust-D; RM released his album, Indigo, with features from Erykah Badu and Anderson Paak; Jimin featured on Taeyang's long-awaited comeback single, "Vibe"; V graced the cover of Vogue Korea and also starred in a special season of In the Soop on Weverse; and Jung Kook appeared on Charlie Puth's "Left And Right" in anticipation of the golden maknae's solo debut. So far, j-hope confesses in the car on the way to his parents' home, "I don't feel much of a difference except that I've moved to a different place," he says, referring to his new apartment.
For j-hope, BTS represents his 20s. "But nothing lasts forever," he says. (Queue up "Young Forever" by BTS.) "I feel like I need to experience something new to appreciate what I have now." And he also thinks the hiatus will bring them all closer together, which will only make the future music they create as BTS even more potent.
BTS are still his biggest supporters.
It should come as no surprise then that all the members of BTS make an appearance in the doc, even SUGA who sadly missed the listening party. (Not that I'm biased, but his brief interjection during j-hope's tasting menu is a highlight, if only for his total nonchalance.) The other members attend the listening party, where they take photos, vocalize their support, and hit the dance floor. Jimin flies to Chicago to be there for his Lolla performance, never missing an opportunity to tell him how cool he looks on stage. In these moments, when he's with his members, j-hope looks truly at ease.
The thing about j-hope is that he shines in front of an audience; he is a consummate showman. But he's absolutely luminous when his members are there. While in Chicago, he tells the camera he feels lonely. He's having trouble sleeping, and he's getting too inside his own head thinking about all of the things that could go wrong. When Jimin arrives, his mood changes. It feels like a weight has been lifted, he says. Maybe it's the reality of being part of a group for the better part of a decade; he's still not comfortable with silence.
But the members don't have to be physically there for him to feel their presence. Whenever he's working on new music, RM is the first person he goes to for feedback. "He told me this album sounds very new and interesting," he says proudly. In Chicago, they send texts to cheer him on. During one particularly rough morning, leader RM tells him to hang in there. It's a small sentiment, but it's what enables j-hope to power through.
He gives the best hugs.
While I have yet to personally experience it, through the screen it appears as though j-hope is a hugger. There's not a single person — staff member, dancer, musician, waiter, sound tech, etc. — that does not receive a hug from him. He hugs everyone! He's so appreciative of everyone's time and energy, and it's refreshing to see a celeb acknowledge the team of people who make the work they do possible.
His mom has the definitive Hobi merchandise shrine.
It's rare to see an idol at home with their parents, in part because there's simply never enough time to go home and when there is, it's precious. But in the doc's most intimate scene, j-hope brings the cameras home to the city of Gwangju. Here, he's Jung Hoseok, son and brother. He shows off his parents' garden and his dad's KAWS collection, cuddles with Mickey, the family dog, and tells his mom that she needs to update her shrine of j-hope merchandise. (Though, he admits the older merch is the best.) At home, the stairs are lined with photos of Hoseok and his sister, and the food is homemade with love. He feels so comfortable that he shows his mom a photo of his wart over breakfast. It all seems so normal.
Once he gets to Seoul, a place he's called home for half of his life, he'll be j-hope again. It's not like j-hope and Jung Hoseok are all that different. It's not a performance or a mask he wears when he steps on stage. He's as much j-hope as he is Hoseok. As he leaves his family's home, he steps out of the box with a smile on his face and a hunger in his eyes. Speaking directly to the camera, he says, "Let's go back to being j-hope."
He's got his next project lined up already.
Taking a cue from Marvel, j-hope appears in a post-credits scene filmed inside a practice room. He says that j-hope IN THE BOX was intended to show "j-hope as a person" and that a new project called Hope On The Street will bring him back to his roots: street dance. Longtime fans know that "Hope On The Street" is a series of freestyle dance videos j-hope used to post on YouTube. It's unclear if this is a continuation of that format, as there aren't any further details provided about Hope On The Street, but it sounds like this will be an opportunity for j-hope to reconnect with his love of dance and share it with ARMY.
j-hope IN THE BOX is now streaming on Weverse and Disney+. Don't have Disney+ yet? You can sign up here.