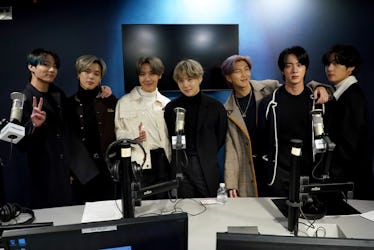 27 BTS Solo Songs That Show How Every Member Of The Band Is Essential
How can all seven be so freaking talented?!
Cindy Ord/Getty Images Entertainment/Getty Images
BTS is on top of the world right now, and they're continuing to gain new fans each day. I joined the BTS ARMY in 2017, but there are some fans that have been with the group since they debuted in 2013. Then, there are others who are probably joining the fandom right now and going down the BTS music video rabbit hole for the first time (I'm jealous of you, newbie ARMYs!). Since there are years' worth of BTS content out there, it might seem impossible to keep up with it all. I immediately think of BTS' albums, music videos, Run BTS! and Bon Voyage episodes, livestreams, and live performances. That's not even all, because they have so much more content to offer, like BTS' solo songs.
Yup. RM, Jin, Suga, J-Hope, Jimin, V, and Jungkook have released songs of their own and they're all awesome and unique in their own way. Their tracks highlight how different each member is and how those differences help make BTS who they are as a group today. That's right. BTS wouldn't be BTS without every single member.
So, without further ado, I present to you 27 BTS solo songs that perfectly capture every BTS members' individuality. Enjoy.
Whew! That was just a few of BTS' solo songs. Yes, just a few, because some of the BTS members have entire mixtapes full of solo songs, but that's for another day.
Man, BTS is just so full of talent. RM, Jin, Suga, J-Hope, Jimin, V, and Jungkook stand out all on their own, but when they come together, they create something even more beautiful. Not one member of the group is like the other, and that's what makes BTS so special.
This article was originally published on