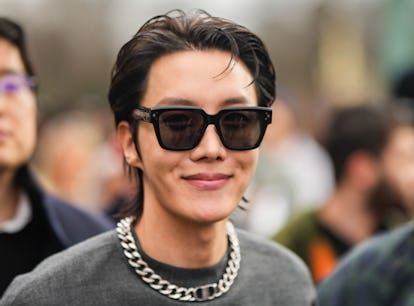 J-Hope's Disney+ Documentary Will Fill The BTS Void In Your Heart
Expect so many new details about his solo debut.
Edward Berthelot/Getty Images Entertainment/Getty Images
Get ready to learn "MORE" about J-Hope than ever before. On Friday, Jan. 20, HYBE announced the BTS rapper is getting his own documentary, titled J-Hope In The Box. The name is a reference to his debut solo album, Jack In The Box, which dropped in July 2022. The film will not only take ARMY behind the scenes of the making of his album, but it'll also showcase J-Hope's biggest moments following his solo debut last year.
After BTS announced in June 2022 that they will embark on a temporary group hiatus to focus on their individual careers, J-Hope became the first member to make his solo debut with Jack In The Box; The record features his singles "MORE" and "Arson." J-Hope celebrated the release of his album by headlining Lollapalooza that summer. He then ended the year on a high note by performing on Dick Clark's New Year's Rockin' Eve live in Times Square.
After a whirlwind year, J-Hope will take a look back at his solo debut with his upcoming documentary, J-Hope In The Box. Here's everything you need to know about the film, including its premiere date, streaming details, and more.
When will J-Hope In The Box premiere?
J-Hope's documentary will be available to stream globally on Friday, Feb. 17.
What is J-Hope In The Box about?
According to a Jan. 20 press release, J-Hope In The Box will reveal new details about J-Hope's journey to making his solo debut last July. "The film captures the creative process of making his first solo album Jack In The Box and unreleased behind-the-scenes of every footstep he took during approximately 200 days of his journey," HYBE said in a statement.
The label also said the film will document J-Hope's private album listening party and his Lollapalooza concert, which made him the first Korean artist to headline the festival.
Is there a poster for J-Hope In The Box?
On Jan. 20, HYBE released an official poster for J-Hope In The Box that shows the "Arson" rapper in midair. Behind him are the phrases "Let's Jump," "Let's Burn," and "Let's Hope."
Is there a trailer for J-Hope In The Box?
A trailer for J-Hope's documentary hasn't been released yet, but it will likely drop sometime in the next few weeks ahead of its Feb. 17 premiere.
Where will J-Hope In The Box be available to stream?
J-Hope's upcoming documentary will be available to stream on Weverse, which is also home to the group's variety series Run BTS! The app is free to download but requires fans to sign up in order to watch content on the platform. Once logged in, J-Hope In The Box will likely be found on BTS' homepage under their "media" tab.
J-Hope In The Box will also be available on Disney+, which requires a $7.99 subscription. The documentary will mark BTS' latest project on the app following the release of their Permission to Dance On Stage concert film and V's In The Soop: Friendcation series.