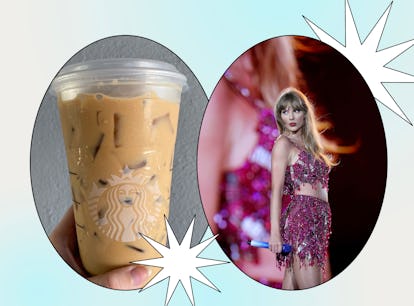 PSA: Taylor Swift's Fave Starbucks Order Is 50% Off
It's also the perfect time to try the viral "Lavender Haze" latte.
Rachel Chapman/Mat Hayward/TAS23/Getty Images Entertainment/Getty Images/Elite Daily
Even though the misheard lyric in "Blank Space" is not "Starbucks lovers," Taylor Swift really is a fan of their coffee. Her go-to Starbucks order is a Grande Caramel Nonfat Latte, and Swifties had the chance to get their hands on "Taylor's Latte" back in 2021 in anticipation of the release of Red (Taylor's Version). While the Taylor's Version latte is always on the menu, you can order an iced version for 50% with Starbucks' Summer WinsDays deal — and you'll want to act fast.
Throughout the summer, Starbucks has offered their rewards members deals on cold drinks, like their new frozen lemonade refreshers, every Wednesday. Basically, after 12 p.m., you can get your fave menu item for 50% off, minus any bottled and canned beverages as well as any alcoholic drinks. The deal ends on Aug. 9, however, so this is your last chance to order a half off cold drink to help you beat the summer heat. If you follow TikTok's "girl math" and were planning on getting a drink on the way to the beach or for a mid-day pick-me-up anyway, it's almost like you're making money with the Summer WinsDays deal. You're limited to just one drink per person, so you want to make it count. The best deal would be to get a drink with a lot of customizations that add up, since you'll be getting it for 50% off. However, this is also a good time to try a new drink to see if you like it.
Swifties who haven't before may want to try Taylor's go-to drink as an iced version. The Grande Caramel Nonfat Latte that Swift loves is a regular latte with four pumps of caramel syrup and nonfat milk, so a cold version would be an Iced Caffè Latte with the nonfat milk subbed in and four pumps of the caramel syrup. A venti version would get six pumps of caramel syrup, while a tall only gets three pumps. The grande version is about $6, so it would only be $3 on WinsDays. You could put those savings into buying some merch at the Eras Tour — every little bit counts, am I right?
Of course, fans could also use this time to try the viral "Lavender Haze" latte inspired by the Midnights single. That drink is a venti iced passion tea with soy milk and six pumps of vanilla, and comes in an Insta-worthy purple hue. Since the last Starbucks WinsDays deal happens to fall on Aug. 9 (or 8/9) and Swifties love a good easter egg, ordering a 1989-inspired Starbucks Upside Down Iced Caramel Macchiato to manifest the next re-recorded Taylor's Version album is something you might want to do as well. There are drinks for all the Swift eras, so order one to match your fave album or zodiac sign.
Along with the exclusions and limits to one drink per person, you also can't combine this deal with other offers and discounts. The 50% off deal also doesn't work with Starbucks Delivers, Uber Eats, and DoorDash, so you'll need to go into a store or mobile order for pickup. Whether you go with a Swiftie drink or just your fave, cheers to a happy WinsDay.