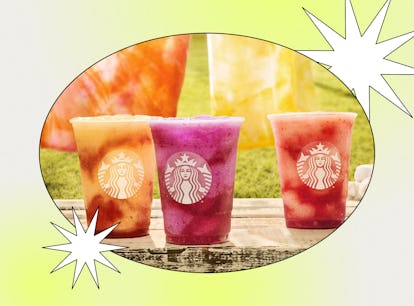 Starbucks' New Frozen Lemonades Taste Like Tropical Mocktails
One perfectly pairs with Taylor Swift's "Cruel Summer."
Starbucks/Elite Daily
Before the official start of the season, Starbucks unveiled new summer drinks and colorful 2023 tumblers in May. However, they were missing one vital summer sip: the frozen lemonade. To round out their seasonal menu, Starbucks has added three new Frozen Lemonade Starbucks Refreshers to the menu — a Frozen Pineapple Passionfruit Lemonade, Frozen Strawberry Acai Lemonade, and Frozen Mango Dragonfruit Lemonade — and I got to try them before their launch on June 27.
As a fan of Starbucks' refreshers, I was excited to see how making a frozen lemonade version with strawberry puree mixed in enhanced the flavor of the popular sips. From looks alone, the fruity swirl definitely makes these new summer drinks Insta-worthy as they give off a tie-dye vibe. However, for the perfect Starbucks drink, you want something that tastes just as good as it looks. Luckily, these frozen lemonades deliver. While they're as refreshing as their name says, they're also nostalgic. Not only do they conjure memories of throwback summers when you'd drink a cold lemonade to chill when it's hot outside, but if you're a fan of Starbucks' secret menu, these new drinks will also remind you of a few recipes that you could previously only find on the TikTok FYP.
Starbucks Frozen Pineapple Passionfruit Lemonade Review
Each of the Frozen Lemonade Refreshers are $6 for a grande size, and out of the three new flavors, the Pineapple Passionfruit Lemonade was the most in-your-face and really reminded me of the Tropical Sunrise Frappuccino that went viral on TikTok in 2022. The lemonade in this mix didn't overpower the pineapple, which definitely had main character energy. It also tasted similar to the Coachella Sunrise secret Starbucks drink. While it was missing the Passion Tango Tea on top, it was just as refreshing.
This frozen lemonade is the perfect sip for sitting by the pool or on the beach with your besties. Since it had the Pineapple Passionfruit Starbucks Refresher base, it also reminded me of a Disneyland Dole Whip. If you like a lot of flavor and tropical mocktails, this should be the first one you try.
Starbucks Frozen Strawberry Acai Lemonade Review
The Frozen Strawberry Acai Lemonade tastes just like a strawberry lemonade that you might order at the boardwalk or pier. It's not as unique as the other two, but it is a classic flavor that won't disappoint. Taylor Swift recently announced that her next single would be "Cruel Summer" off of her 2019 album Lover, and Swifties have named it the song of the summer. Since the Lover era is most known for its romantic pink shade, like the cover art, a frozen lemonade version of the Pink Drink seems only fitting to pair with "Cruel Summer."
This is why I think the Frozen Strawberry Acai Lemonade should be the unofficial "Cruel Summer" Starbucks drink to match. It pairs well with classic summer activities like attending a backyard BBQ, wearing a sundress, or going for a drive with the windows down and singing at the top of your lungs.
Starbucks Frozen Mango Dragonfruit Lemonade Review
The most Insta-worthy of the three new Starbucks drinks is the Frozen Mango Dragonfruit Lemonade. It has Speak Now vibes with its purple color, and the strawberry puree swirls just add to its vibrancy. The Mango Dragonfruit Lemonade also could pass as a frozen version of TikTok's Taylor Swift Speak Now drink. Instead of a strawberry cold foam on top, you have the strawberry puree blended into the Mango Dragonfruit Refresher.
As bright as it is, though, the flavor is a little more subtle. While the pineapple was the star of the show in its frozen lemonade form, the Mango Dragonfruit Refresher took on more of a supporting character role. Since the flavor is more casual, it's doesn't feel like a summer-only sip. You could enjoy it for all occasions, not just beach vacays and pool days. In fact, it's perfect for sipping on as you listen to Speak Now (Taylor's Version) or just running errands around town.