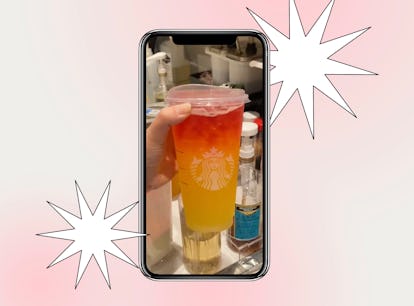 I Tried Starbucks' Secret Coachella Sunrise Sip & It's So Refreshing
Grab it on your way to the desert.
Get in besties, we're headed to the desert. You know festival SZN has officially begun with the start of Coachella. As influencers are posting their GRWMs and showing off their gifting suite hauls, festival goers are packing their cars for a weekend of sun, self-tanner, and selfies. Aside from wearing the hottest 'fit in your closet, the most important thing to remember for Coachella weekend is to stay hydrated. The desert may be cold at night, but it's hella hot during the day and what better way to quench your thirst that with Starbucks' festival season sip — the Coachella Sunrise?
The OG Coachella Sunrise refresher from Starbucks was a mix of the Valencia Orange and Berry Hibiscus refreshers, which have been discontinued. However, fans have come up with a new Starbucks sunrise drink recipe on TikTok that may be even better. This new Starbucks order is the Pineapple Passionfruit Lemonade with the Passion Tango Tea on top to create a gorgeous sunrise look in your cup. As a fan of the pineapple refresher from Starbucks — which TBH tastes like a Dole Whip from Disneyland — I had to try this colorful concoction for myself. When ordering it off the Starbucks app, start with an iced Pineapple Passionfruit Lemonade and customize it with a splash of the Passion Tango Tea. Your best bet for having a perfect sunrise sip is to order it in the cafe from a barista, and make sure they know you want the tea right on top and not mixed in. When ordered correctly, you get a gorgeous drink that goes from red to yellow.
Starbucks' Coachella Sunrise Review
Unfortunately, my drink came mixed when I picked it up in store, but it was still a gorgeous Coachella-inspired coral. The Pineapple Passionfruit Lemonade also comes with freeze dried pineapple inclusions, which made for a fun garnish on top. If I were rating this drink on Insta-worthiness alone, I would give it a 10 out of 10. The color might even be better than the Taylor Swift-inspired Lavender Haze drink from Starbucks.
Of course, looks aren't everything. Similar to Loren Gray is calling out influencers for not actually attending Coachella, I can't judge a Starbucks drink just based on how pretty it is. Taste is key — and I have to admit this Coachella Sunrise is super tasty. It's a certified summer sip that's refreshing and tropical. The mix of pineapple juice and lemonade with the hibiscus, lemongrass, and apple will remind you of sitting by the beach or even chilling at a pool party in Palm Springs. The Starbucks Sunrise drink from TikTok also includes the now-discontinued raspberry syrup, but I don't think you'll be missing that flavor at all. In fact, anything more might make this drink a little too artificial tasting.
As it is, the Coachella Sunrise is sweet and tangy. It may be a little too flavorful and sweet for anyone looking for a subtle sip to cool them down in the desert. However, I think the burst of fruity goodness matches the vibes of Coachella well. Watching BLACKPINK slay it on stage and walking around the festival with the giant Ferris wheel in the background is exciting, and you want a drink to match. The only thing I recommend is ordering it in person versus on the app just so you can get that cool gradient effect with the colors to post on the 'Gram along with the rest of your Coachella weekend.