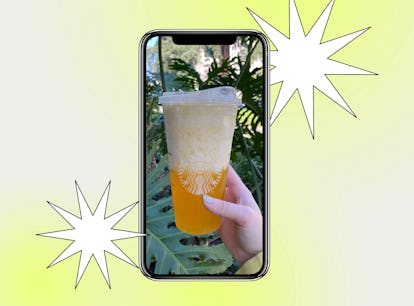 This Pineapple Starbucks Drink Is A Disneyland Dole Whip Dupe
Pretending I'm at the happiest place on Earth.
Rachel Chapman
When you can't afford a Disney vacation, the next best thing is to head your local Starbucks. Starbucks may be known for their lattes and frappucinos, but there is a pineapple Starbucks drink off the menu that tastes just like a Disneyland Dole Whip with the right customizations. After seeing TikToker @kortneyandkarlee share the Dole Whip drink from Starbucks on my FYP, I had to try it for myself to see how it matched up.
While nothing can ever replace getting an actual Dole Whip from Adventureland in Disneyland and the Magic Kingdom at Walt Disney World, there are a few ways to enjoy a Dole Whip dupe at home. Pretty soon, you'll be able to find Dole Whip at your local grocery store as well. When you're on the go or just want a sippable version of a Dole Whip instead, this Starbucks version is a great choice. While it also doesn't require a million customizations like some secret menu Starbucks drinks do, it is a little more expensive than ordering Dole Whip soft serve at Disney. If you're interested in seeing what all the fuss is about and getting a taste of Disneyland without heading to Southern California, here's how to order the Dole Whip drink at Starbucks.
How To Order The Dole Whip Starbucks Secret Menu Drink
Starbucks introduced their new pineapple refresher last summer, which is actually a pineapple passionfruit juice with ice and freeze dried pineapple. This is the base for the Dole Whip drink at Starbucks. According to TikToker @kortneyandkarlee, order a venti Pineapple Passionfruit Starbucks Refresher and ask for it blended. Next, top off with a vanilla sweet cream cold foam. Since the customizations aren't that intricate, this drink can easily be ordered on the app for mobile order pickup. Depending on where you're ordering, this drink will cost around $7 to $8. In comparison, the Dole Whip soft serve at Disneyland's Tiki Juice Bar is $6 and the Dole Whip Float is $7.
A Review Of The Dole Whip Starbucks Drink
As a Disney lover, I've tried a lot of different Dole Whip flavors over the years and have even ranked some of the best Dole Whip treats at Disney World. As a somewhat Dole Whip connoisseur, I would have to say the pineapple Starbucks drink is an excellent substitute if you're craving a Dole Whip and you're not at Disney. The vanilla cold foam on top adds the creaminess to the pineapple flavor, which is what people love about the Dole Whip soft serve.
I'm not 100% sure what the blending does, except maybe breaking down the freeze dried pineapple that is part of the drink. I thought it would make it more like a slushy, but that wasn't the case at all. It was more like a juice on bottom with the cold foam on top, which reminded me of the Dole Whip Float at Disney. If you want that soft serve flavor, you need to sip this drink in order to enjoy the cold foam and pineapple passionfruit juice together. So, ditch the straw if you can. My only complaint is that it's a little too sweet. It also has a slight aftertaste you only get from drinking sugary juice, so if I were to order this again, I might try it with the Paradise Drink from Starbucks as the base.
ICYMI, the Paradise Drink has the pineapple passionfruit refresher base, but comes with coconut milk as well. I might also try it not blended to see if the freeze dried pineapple inclusion will make the drink more Insta-worthy. Of course, the vanilla sweet cold foam on top is a must no matter what.
Ultimately, I would give this drink a 3.5 out 5 overall, but a 4.5 out of 5 for how much it tastes like a Dole Whip. With summer coming up sooner than you think, this might be the perfect drink to enjoy as you're headed to the beach or if you're just relaxing at home and wishing you were riding Space Mountain instead.