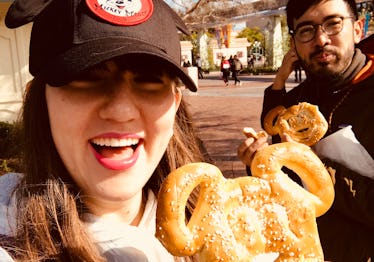 These Disney Parks' Snacks Will Make Working From Home So Much Tastier
There's no denying that Disney's iconic snacks deserve all the hype they receive. It's a magical experience enjoying a refreshing cup of Dole Whip and satisfying your sweet tooth with a churro. That's why you're looking for ways to enjoy that tasty magic at home. No need to search any further for how to make Disney Parks' snacks at home, because we've rounded up a bunch of YouTube recipes that will make your dreams come true in your kitchen.
If you could live in the Magic Kingdom, you totally would. Each day would be spent eating corndogs and Mickey-shaped macarons. But until Cinderella's Castle calls you up with a vacant room, you can always follow any of these 10 Disney Parks' recipes in your kitchen and it'll be like you're there. In between virtual meetings and answering emails, enjoy a sweet Mickey-shaped Rice Krispies Treat or set a bowl of Star Wars popcorn next to your laptop to snack on when you're working.
With every bite, you'll be transported to "The Happiest Place on Earth" — no suitcase-packing required. All you need are the right ingredients and a recipe to get you going on your foodie journey, and you're set for a workday treat.